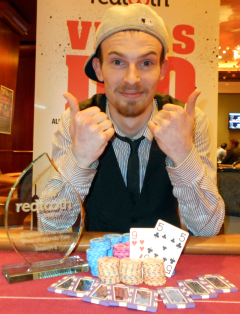 1. Kieran Walker – Bell Inn, Coventry
2. Phil Stoddart – Hunters Moon, Birmingham
3. Janet Tulloch – Raven, Birmingham
4. Tom Morris – Fox, Nuneaton
5. Lisa Morgan – Fox, Nuneaton
6. Helen Franklin – Raven, Birmingham
7. Jean Lawson – Chase, Nuneaton
8. Dwayne Miller – Sharmans Cross, Solihull
The fabulous Ricoh Arena in Coventry welcomed numerous Redtooth Poker players from the West Midlands through their doors. One lucky player would leave with a trip to Las Vegas in 2015 and another 7 players would leave with a cash prize.
The team event trophy went to the Hunters Moon in Birmingham, they were represented by Wayne Platt, 2014 Vegas 100 member Patrick Buchanan, Sergio Ferdenzi & Phil Stoddart.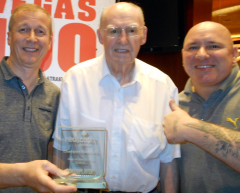 Final Table Chip Counts
234,000 Kieran Walker – Bell Inn, Coventry
161,000 Phil Stoddart – Hunters Moon, Birmingham
118,000 Helen Franklin – Raven, Birmingham
81,000 Jean Lawson – Chase, Nuneaton
45,000 Janet Tulloch – Raven, Birmingham
35,000 Tom Morris – Fox, Nuneaton
26,000 Lee Collins – Journeys End, Birmingham
24,000 Dwayne Miller – Sharmans Cross, Solihull
20,000 Mel Campbell – Talbot, Worcester
7,000 Lisa Morgan – Fox, Nuneaton
The final table was dominated by venues from Birmingham and Nuneaton, although Coventrys Kieran Walker held the lead with a nice 234,000 chip stack. Lee Collins was eliminated in 10th place with Mel Campbell unfortunately bubbling the cash prizes in 9th. Our 8th place finisher was Dwayne Miller with Jean Lawson 7th, Helen Franklin 6th, Lisa Morgan 5th who put up a good fight from starting as the clear short stack. Tom Morris was 4th & Janet Tulloch 3rd as we finally reached the heads-up match between Kieran Walker & Phil Stoddart. In an unusual final hand we had Phil tabling 9-8 to Kieran's dominated 9-5. To Kieran's delight we saw a 5 'in the window' as the board showed 5-3-10-2-J to eliminate Phil and crown Kieran Walker our new West Midlands Two champion.