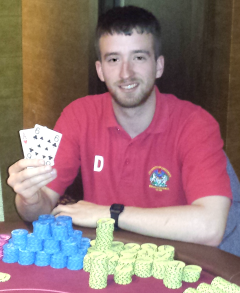 1. James Dunwell – Lock, Stock & Barrel, Newbury
2. Ray Drake – Four Horseshoes, Sherfield-on-Lodden
3. Richard Berry – Brunswick, Bournemouth
4. Dean Ardener – Wheatsheaf, Bognor Regis
5. Andy Cannon – Black Bear, Wareham
6. Steve Hayes – Stourvale, Christchurch
7. Lee Wilkinson – Two Brothers, Southampton
8. Tara Bell – Saxon Inn, Southampton
Our South of England members entered the Grosvenor Casino in Portsmouth for the latest South England regional final. One lucky member would be off to Las Vegas with Redtooth Poker for the trip of a lifetime next year.
Our 10 player final lined up with some unfamiliar faces with Dean Ardener leading the way on 110,100 chips. James Dunwell also took his seat in the final, the son of 2013 Vegas 100 member Kevin Dunwell.
110,100 Dean Ardener – Wheatsheaf, Bognor Regis
90,100 Richard Berry – Brunswick, Bournemouth
88,000 Ray Drake – Four Horseshoes, Sherfield-on-Lodden
85,000 Steve Hayes – Stourvale, Christchurch
85,000 Andy Cannon – Black Bear, Wareham
65,000 Lee Wilkinson – Two Brothers, Southampton
42,300 Tara Bell – Saxon Inn, Southampton
37,000 Steve Donnelly – Wyvern, Lee-on-the-Solent
33,600 Jodey Jenkins – Richmond Arms, Bournemouth
32,000 James Dunwell – Lock, Stock & Barrel, Newbury
Our 10th place finisher was Jodey Jenkins who couldn't improve on the 33,600 starting stack. Steve Donnelly was 9th with Tara Bell 8th, Lee Wilkinson 7th, Steve Hayes 6th, Andy Cannon 5th, Dean Ardener 4th & Richard Berry 3rd. Our heads-up encounter was between Ray Drake and James Dunwell with a prize worth over £1,000 going to the winner. The final hand had James with a slight edge holding A-6 to Ray's J-5. The final board ran of K-7-3-K….. A to eliminate Ray Drake and crown James Dunwell the new South England champion and emulate his father's achievement in 2013 of qualifying for the Vegas 100 trip.