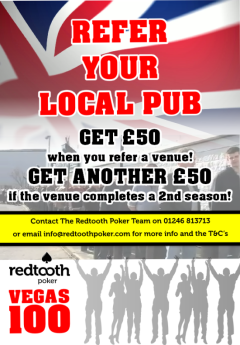 Now you can earn money from Redtooth Poker by referring your local venue!
We are launching a NEW referral scheme which is open to anyone in the UK. If anyone knows of a local venue that is interested in starting a poker league or currently has an in-house game running then we will PAY you to convert them to Redtooth Poker! If anyone is interested then use the contact details below for more information!
Lets come together as one and make Redtooth Poker even bigger & better!!
You can contact us by email at info@redtoothpoker.com or call the office on 01246 813713.
Terms & Conditions
1. £50 Referral fee will be payable by BACS transfer on the receipt of the first or second season.
2. No monies will be paid to the referrer until full payment for the 1st or 2nd season has been received from the venue/licensee and processed by Redtooth.
3. All details of the pub will need to be given and set up on our system as a shell scheme account for the referrer to be given a unique reference number. This reference number then needs to be forwarded to the licensee in order to complete set up and payment.
4. This unique reference must be quoted on sign up from the licensee otherwise no monies will be payable to the referee.
5. The minimum contract for a referral sign up is 13 weeks at the cost of £260+vat. This amount is payable in full by the pub/licensee by card, BACS or cheque and no other payment options are available.
6. Players can refer multiple venues/nights/leagues.
7. The referrer must contact Redtooth to agree to all terms & conditions. A form will be emailed to the referrer to complete with all appropriate details including full name, email address, bank details, addressand contact number.
8. New live venues only!
9. If the venue/pub has had Redtooth Poker within the last 6 months (2 seasons) this invalidates a referral.
10. Redtooth has the right to amend these terms & conditions at any time.