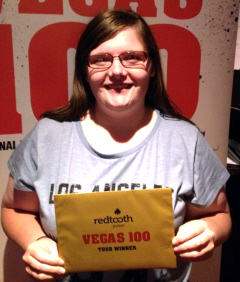 Results
1. Laura Duff – Vegas 100
2. Adam Wallace – £90 + UK National Final Seat
3. Julian Varney – £60 + UK National Final Seat
4. Paul Elliott – £40 + UK National Final Seat
5. Adam Bennett – £35 + UK National Final Seat
6. Andy O'Donnell – £30 + UK National Final Seat
7. George Acton – £25 + UK National Final Seat
8. Ross Elliot – £20 + UK National Final Seat
The Grosvenor Casino in Newcastle hosted the 3rd leg of the Redtooth Poker Tour. This year's Newcastle leg saw another increase in numbers from last year's leg in the North East. At the end of an exciting day of poker action another trip to Las Vegas was awarded along with cash prizes and UK National Final seats.
After a successful first two legs of the tour which saw 2 female winners, the lady's were out in force again looking for a hat-trick of wins! After making the 150 mile long trip from Fife to Newcastle, Laura Duff took the latest RPT Newcastle title after an impressive heads-up encounter against Adam Wallace. After starting the heads-up match with a big chip deficit, Laura soon took charge in a dominant heads-up display and now joins previous tour winners Kirsty Lord & Fiona Mackintosh in Las Vegas next year.
The 9 player final consisted of 2014 Vegas 100 member Julian Varney and 2 time member Richard Arnott who finished in 3rd & 9th respectively.
The fourth leg of the Redtooth Poker Tour will visit Coventry on Sunday 17th August. This is our Goliath event so will have an increased cash prize-pool. £10 from each buy-in will go into the pot along with the usual Vegas 100 trip and UK National final seats. PLENTY TO PLAY FOR! Tickets are still available to buy here so who will be the next golden ticket winner?