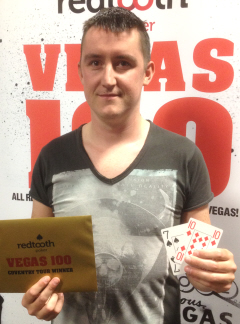 Results
1. Liam Hamilton – Vegas 100
2. Simeon Campbell – £260 + UK National Final Seat
3. Paul Catto – £170 + UK National Final Seat
4. Mark Jones – £120 + UK National Final Seat
5. Ian Russell – £90 + UK National Final Seat
6. Clifford Greenhill – £70 + UK National Final Seat
7. Tim Osborn – £60 + UK National Final Seat
8. Pete Spackman – £50 + UK National Final Seat
9. Dave Appleyard – £40 + UK National Final Seat
10. Martin Bremner – £30 + UK National Final Seat
Leg 4 of the Redtooth Poker Tour visited the magnificent Grosvenor Casino in Coventry for what was billed as our GOLIATH leg. GOLIATH meant a BIGGER player cap, a BIGGER prize-pool and MORE UK National Finalists! This event was guaranteed to be our BIGGEST tour leg to date. If you missed it you missed out!
With a slightly earlier start time due to the GUKPT Goliath which ran alongside our Main Event, the biggest tour field to date sat down to battle for another golden ticket to Las Vegas. After around 7 hours of play we had managed to uncover 10 finalists with a couple of previous Vegas 100 members in Paul Catto (2014) and Martin Bremner (2013).
Liam Hamilton started the final with a size-able chip lead sat on 181,000 chips. Liam, good friends with RPT Sheffield winner Kirsty Lord was hoping to join his partner in crime on the Vegas 100 trip in 2015. After a couple of hours play there was only Simeon Campbell stood (sat?) in Liam's way but Simeon was soon brushed aside as Liam's 10-7 had Simeon's 10-4 in very bad a shape. The board was of no help to Simeon as a 2-Q-5-6-A hit the felt to confirm Liam Hamilton as the first ever RPT Coventry winner!
The fifth leg of the Redtooth Poker Tour is unfortunately sold out. The next available leg is in Nottingham on Sunday 26th October at the Grosvenor Casino! Tickets are still available to buy here. Who will be the next golden ticket winner?