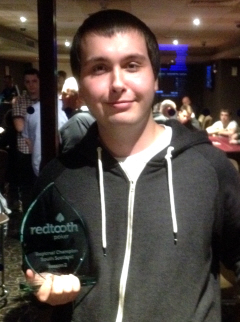 Results
1. Steven Wilkie – Old Brewery, Alloa
2. Mic Thomson – Crofters, Edinburgh
3. Steven Dickson – Glenpark Hotel, Ayr
4. Nicola Dilworth – Viking Bar, Glasgow
5. Marc Clugston – Easthouses Miners Welfare, Dalkeith
6. Sean Campbell – Fountain Bar, Perth
7. Jimmy Morrison – Gartocher, Glasgow
8. Brian Young – Alloa Golf Club, Alloa
Glasgow hosted our South Scotland final as the rotation between Scotland's two biggest cities continued. Another golden ticket to Las Vegas was only 7 or so hours away from being awarded to one lucky Redtooth Poker member!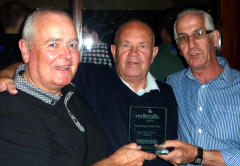 The team event was claimed by Glasgow's Gartocher after just pipping No 2 Baker Street and the Old Brewery. Congratulations to Paul McGregor, Tommy Silverstro, Tommy Walker & Jimmy Morrison.
A 10 player final saw Steven Wilkie hold a comfortable lead on 73,600 over Keith Ritchie's 41,300. Keith had a final to forget as his chip stack soon deserted him as he left the tournament in 9th place just ahead of Tommy Walker in 10th. Brian Young finished in 8th place with Jimmy Morrison 7th, Sean Campbell 6th, Marc Clugston 5th, Nicola Dilworth 4th & Steven Dickson 3rd.
Our heads-up encounter had Steven Wilkie and Mic Thomson battle for the day's top prize, a trip to Las Vegas. The final hand came about when Steven's A-6 went up against Mic's K-7 with Mic Thomson at risk. The preceding board only strengthened Steven's hand as it ran off 10-J-A-3-3 to crown Steven Wilkie the new South Scotland champion.