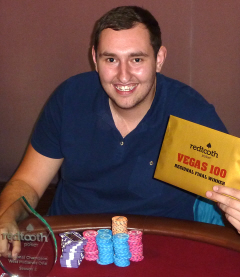 Results
1. Shaun Blackshaw – Firs Inn, Birmingham
2. Felix Brooks – Crown, Bridgnorth
3. Darren Wells – Hilly House, Dudley
4. Michelle Webb – George, Oldbury
5. Graham Jones – Swan, Bromsgrove
6. Manjit Rana – Hamstead, Birmingham
7. Craig Franklin – Beggars Bush, Birmingham
8. David Withers – Swan, Bromsgrove
The Black Country's Grosvenor Casino in Walsall welcomed Redtooth Poker members from the local area to battle for a host of prizes including the usual trip to Las Vegas for the day's winner. £500 was also shared between 2nd-8th place.
The first award of the day was the team event and although the Swan in Bromsgrove had 2 finalists in David Withers and Graham Jones, it was the Foley Arms in Birmingham that claimed the trophy with some very consistent displays. Congratulations to Lee James, Richard Truelove, Mick McCleverty & Peter Charlton.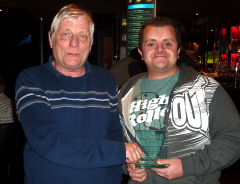 The final table kicked off shortly after a double elimination when 12 players remained. Our 10th place finisher was Adam Baguley with Dan Bain 9th, David Withers 8th, Craig Franklin 7th, Manjit Rana 6th, Graham Jones 5th, Michelle Webb 4th & Darren Wells 3rd. This brought us into a heads-up battle between big stacked Shaun Blackshaw and Felix Brooks with both players eyeing up the trip of a lifetime.
Shortly after a Felix Brooks double-up we had our final hand. It all came down to a race as Shaun held 3-3 to Felix's A-9 with Felix still at risk. The final board ran off 3-9-7-6-5 to crown Shaun Blackshaw the new West Midlands One regional final champion!