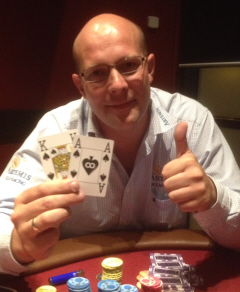 Results
1. Alistair Watt – Chaddlewood Inn, Plymouth
2. Chris Smith – Sloop, Kingskerswell
3. Ray Arnold – Bunters Sports Bar, Truro
4. Dave Evans – White Hart, Holsworthy
5. Emma Walker – Chaddlewood Inn, Plymouth
6. Sue Norsworthy – Chaddlewood Inn, Plymouth
7. Alan Bailey – Brendan Arms, Bude
8. Damien Wood – Chaddlewood Inn, Plymouth
The Grosvenor Casino in Plymouth saw a huge 97% turnout as Redtooth Poker players packed out the popular casino. One lucky player would be packing their bags for Vegas in May 2015. £500 would also be shared among seven other players with a team event trophy going to the day's best venue.
The team event was won by the Chaddlewood Inn in Plymouth who were out in force with 12 qualifiers from 3 nights. They were represented by Damian Wood, Lesley Watt, Alistair Watt and Sue Norsworthy.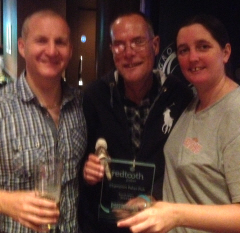 10 players sat down for the South West final which included 4 players from the Chaddlewood Inn as they looked for the double. Becci Saunders exited in 10th place with Arthur Randell in 9th, Damien Wood 8th, Alan Bailey 7th, Sue Norsworthy 6th, Emma Walker 5th, Dave Evans 4th & Ray Arnold 3rd.
Our heads-up encounter was between Alastair Watt and Chris Smith from the Chaddlewood Inn and Sloop respectively. The final hand saw Alastair table a monster in A-K to Chris's Q-J and with a preceding board of 9-3-2-A-4 Alastair Watt was crowned the new South West regional final champion.