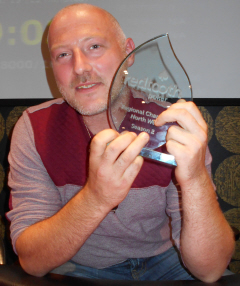 Results
1. Darren Lane – Red Herring, Coppull
2. Alan Hall – Old Leyland Gates, Leyland
3. Adam Brown – Finger Post, Stockport
4. Mike Henley – Orford, Warrington
5. Anthony Reel – Carousel, Stockport
6. Gary Hilton – Seven Woods, Warrington
7. Gareth Owens – Red Lion, Manchester
8. Wayne Barlow – Wheatsheaf, Frodsham
The Grosvenor Casino on Bury New Road in Manchester which boasts a 240 seat card room welcomed our North West members from Manchester and surrounding areas.
Many prizes were awarded throughout this fantastic event with the first being the team event trophy. This trophy went to the Orford in Warrington who were represented by Mike Henley, Luke Potter, Alex Moyler & Antonia Dolden.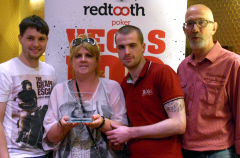 Mike Henley started the final table with the chip lead on 161,000 in chips while Barry Hilditch was our short stack on just 29,000 in chips. Our first player out was Barry in 10th place who was swiftly followed by the day's top performing lady, Rebecca Donlin in 9th. Wayne Barlow finished in 8th place with Gareth Owens 7th, Gary Hilton 6th, Anthony Reel 5th, Mike Henley 4th and Adam Brown in 3rd.
Our heads-up encounter was between Coppull's Darren Lane and Leyland's Alan Hall who were battling for two excellent prizes, a trip to Las Vegas and £200 cash. The tournament was soon over as Darren's A-2 was comfortably ahead of Alan's optimistic 3-2 and with a following board of 6-7-A-10-6 Darren Lane was the new North West regional champion.