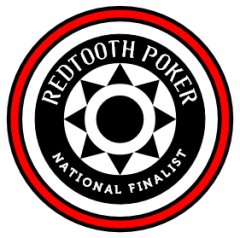 The first UK National Final of our 8th year had a new host in the fabulous Las Vegas style G Casino in Coventry. Nearly 200 players made the journey from as far north as Aberdeen to as far south as Plymouth to battle for over £10,000 worth in prizes in the most prestigious event in UK pub poker. In total there would be 10 players leaving with a trip to Las Vegas for Vegas 100 2015!
To make the day even more special for our valued members we invited along two well known professional poker players in Barny Boatman and Joe Beevers who were available throughout the day for photos, general meet and greet and to even sit down with for a cash game with some lucky Redtooth members, undoubtedly an experience they will all never forget.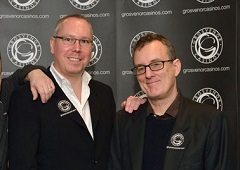 The tournament also saw a brand new and improved blind structure which was welcomed by all as we saw a 10,000 starting stack for the first time at one of our UK National Finals. With a longer blind structure to compliment the increased starting stack we were looking at a long 9 hour grind until we reached our final 10 players.
It took around 8 hours to find our final 18 players who took their seats with the following stacks..
235,000 Martin Bremner – Green Dragon, Hucknall
214,000 Dave Kendrick – Willows, Upton
194,500 Daniel Lane – Shaw Farm, Chelmsford
133,000 Mark Tansey – Oak & Acorn, Derby
132,500 Anthony Dyer – Birchgrove, Cardiff
127,000 Ian Quinn – Alpine, Rotherham
115,000 Brian Baker – Swan, Brentwood
114,000 Norman McLeod – Imperial Bar, Cupar
108,000 Greg Nuttall – Cedar Tree, Nuneaton
95,000 Shaun Palmer – Harrington Arms, Nottingham
90,500 John Maguire – Fieldhouse, Solihull
75,000 Jamie Willerton – Whistle Stop, Leeds
74,000 Mike Bowler – Copcut Elm, Droitwich
65,000 Julian Varney – Green House, Belper
61,500 Jack Clough – Melbourne, York
53,000 Wayne Pretorius – Greyhound, Wivenhoe
45,000 David Withers – Swan, Bromsgrove
38,000 Scott Berridge – Chaddlewood Inn, Plymouth
It took around a further hour to find our final 10 players as one by one they exited as follows…
18th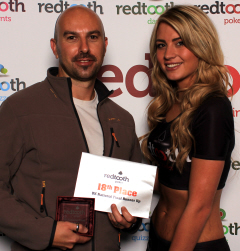 David Withers – Swan, Bromsgrove
17th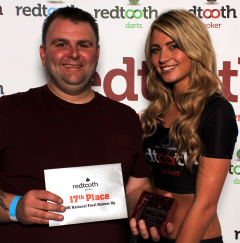 Norman Macleod – Imperial Bar, Cupar
16th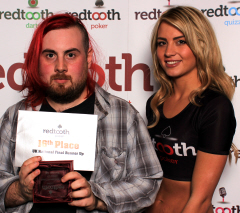 Greg Nuttall – Cedar Tree, Nuneaton
15th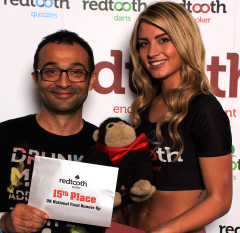 Wayne Pretorius – Greyhound, Wivenhoe
14th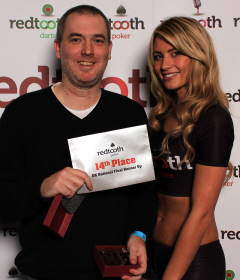 Anthony Dyer – Birchgrove, Cardiff
13th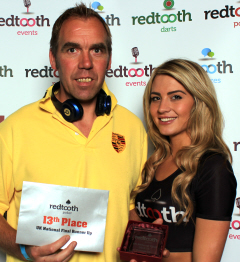 Scott Berridge – Chaddlewood Inn, Plymouth
12th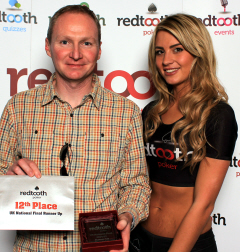 Shaun Palmer – Harrington Arms, Nottingham
11th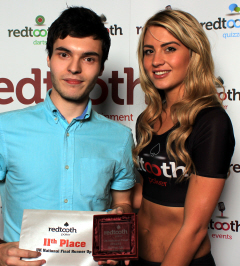 Jack Clough – Melbourne, York
Jack's unfortunate elimination brought a huge cheer from the final 10 players which were followed by handshakes and high fives from players and supporters. These 10 players will be flying to Las Vegas in May 2015 to experience… VEGAS 100!! Lets meet the lucky 10…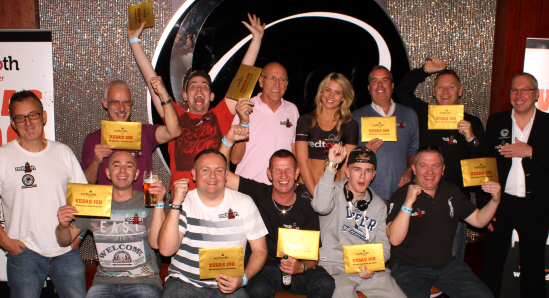 Martin Bremner – Green Dragon, Hucknall
Dave Kendrick – Willows, Upton
Daniel Lane – Shaw Farm, Chelmsford
Mark Tansey – Oak & Acorn, Derby
Ian Quinn – Alpine, Rotherham
Brian Baker – Swan, Brentwood
John Maguire – Fieldhouse, Solihull
Jamie Willerton – Whistle Stop, Leeds
Mike Bowler – Copcut Elm, Droitwich
Julian Varney – Green House, Belper