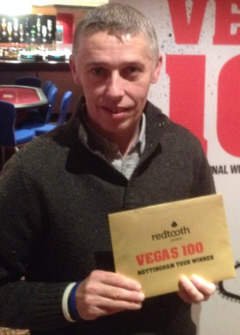 Results
1. John Gurnhill – Vegas 100
2. Patrick Walcott – £180 + UK National Final Seat
3. Julian Varney – £120 + UK National Final Seat
4. Debbie Clark – £80 + UK National Final Seat
5. Sam Snape – £60 + UK National Final Seat
6. Carl Swain – £45 + UK National Final Seat
7. Andrew Egerton – £35 + UK National Final Seat
8. Dawn Burnip – £30 + UK National Final Seat
9. Kimberley Chaplin – £25
10. Kevin Shutt – £25
Leg 6 of the Redtooth Poker Tour visited the Grosvenor Casino in Nottingham, the venue for our East Midlands regional final! The leg was another sell out, following on from our sell out Blackpool leg in September. Like in Blackpool, a lot of players made a weekend of it as the Green Dragon in Hucknall, a current Redtooth Poker venue, put on an excellent warm up tournament the evening before.
As the tour kicked off around 1pm we were down to the final 10 players at around 9:30pm. Our final included previous Vegas 100 members Julian Varney and Sam Snape with Julian already on the plane for his 2nd Vegas 100 trip in 2015. Carl Swain who won the regional final in Walsall to book his Vegas 100 place was enjoying his 2nd tour final table in a row!
The first player out was Kevin Shutt in 10th place with Kim Chaplin 9th, Dawn Burnip 8th, Andrew Egerton 7th, Carl Swain 6th, Sam Snape 5th, Debbie Clark 4th & Julian Varney 3rd. The heads-up encounter saw Sheffield's John Gurnhill and Birmingham's Patrick Walcott battle for the ultimate prize in pub poker, the Vegas 100 experience. The final hand had John holding Q-7 to Patrick's K-3 with Patrick at risk. The final board certainly favoured John as we saw a A-8-7-6-4 hit the felt which confirmed John Gurnhill as the new RPT Nottingham champion!
The next leg on the tour moves to the capital on Sunday 16th November at The Poker Room on Edgware Road! Tickets are still available to buy but selling fast!! You can buy yours here. Who will be the next golden ticket winner?