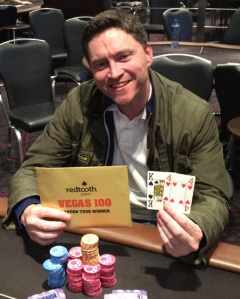 Results
1. David McHugh – Vegas 100
2. Rob Lewis – £180 + UK National Final Seat
3. Daniel Roffey – £120 + UK National Final Seat
4. Stephen Loomes – £80 + UK National Final Seat
5. Scott Hale – £60 + UK National Final Seat
6. Vanessa Turner – £45 + UK National Final Seat
7. Daniel Field – £35 + UK National Final Seat
8. Paul Russell – £30 + UK National Final Seat
9. Martin Connelly – £25
10. Brant Harrison – £25
Our 7th leg of the tour was played at The Poker Room in London, part of the Vic Casino. This leg was another sell out, our 4th sell out in a row, as 120 players were ready to battle for the latest Vegas 100 golden ticket.
Shuffle up 'n' deal was announced at 1pm with players having a free buffet break to look forward to at 3pm! As soon as the break was out of the way all remaining players set their minds on the day's prizes as we awarded £600 in cash on top of the Vegas trip. We arrived at our final 10 players mid evening with previous Vegas 100 players David McHugh and Martin Connelly present looking for an immediate return.
Long time Redtooth member Brant Harrison was eliminated in 10th place with Martin Connelly 9th, Paul Russell 8th, Daniel Field 7th, Vanessa Turner 6th, Scott Hale 5th, Stephen Loomes 4th & Daniel Roffey 3rd. Our heads-up match was between Rob Lewis from Nottingham and David McHugh from Walthamstow in London. David McHugh started with the majority of the chips and this year's Vegas 100 player made no mistake as his K-4 hit a lucky turn against Rob's A-9 on a J-8-3-K-3 board.
The next leg on the tour moves west to Reading on Saturday 13th December at the Grosvenor Casino! Tickets are still available to buy but selling fast!! You can buy yours here. Who will be the next golden ticket winner?