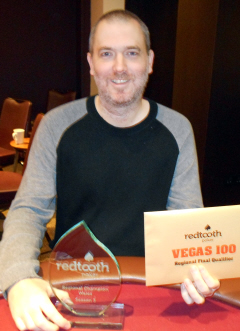 Results
1. Anthony Dyer – Black Lion, Cardiff
2. Robert Coleman – Courthouse, Caerphilly
3. Matthew Brown – Black Lion, Cardiff
4. Paul McKenna – Cwmbran Sports & Social Club, Cwmbran
5. Christine Harries – Welsh Oak, Newport
6. Matthew Jones – Crown, Newport
7. Simon Mitchell – Cwmbran Sports & Social Club, Cwmbran
8. Leslie Covell – Crown, Newport
9. Robin Hanna – Cathays Conservative Club, Cardiff
10. Frederick Edwards – Cwmbran Sports & Social Club, Cwmbran
The fabulous Grosvenor Casino in Cardiff opened their doors for Redtooth Poker members to pack the card room. Another Welsh member would be leaving with a seat into our Vegas 100 National Final next year, the greatest event in UK pub poker. The day's team event was a battle between the Black Lion and Cwmbran Sports & Social Club and with 4 top 22 finishers the Black Lion took home the crystal glass trophy.
Final Table Chip Stacks
1. Matthew Jones – 107,000
2. Anthony Dyer – 69,000
3. Robert Coleman – 60,000
4. Leslie Covell – 52,000
5. Christine Harries – 48,000
6. Matthew Brown – 45,000
7. Paul McKenna – 36,000
8. Robin Hanna – 26,000
9. Simon Mitchell – 25,000
10. Frederick Edwards – 18,000
Black Lion's Anthony Dyer looked for a Black Lion double as he faced Robert Coleman for the day's top prize. The tournament came to an unusual end with Anthony Dyer holding 5-6 which was bizarrely ahead of Robert's 3-4. A low board connected with both players as we saw 3-2-5-5-J hit the felt to crown Anthony Dyer the latest Vegas 100 qualifier and the new Wales regional final champion.
Team Event Winner: Black Lion, Cardiff
Anthony Dyer
Matthew Brown
Jeff Dyer
Tony Ullah