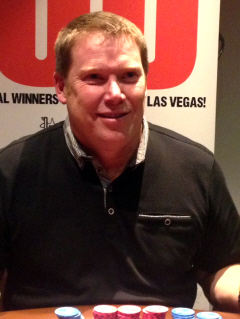 Results
1. Steve Jones – College Arms, Reading
2. Tim Worsnop – Butler's, Highwycombe
3. Stephen Drane – Digswell Park Sports Association, WGC
4. Geoff Wing – Netherfield Tavern, Milton Keynes
5. Vince Marino – Golden Hind, Cambridge
6. Alex Skeggs – Dun Cow, Stevenage
7. Paul Harris – College Arms, Reading
8. Jamie Flecknell – Golden Hind, Cambridge
9. Luke Perry – Wheatsheaf, Rushden
Luton's popular Grosvenor Casino hosted players from our Central England region as over £1,500 worth of prizes were awarded to several of our members. The team trophy was awarded to a long time Redtooth Poker venue, the Netherfield Tavern in Milton Keynes. Congratulations to Geoff Wing, Stephen Lordan, Garry Wing & Martin Wing. Steve Jones led from the front as he hit our final table with the chip lead.
Final Table Chip Stacks
1. Steve Jones – 139,000
2. Stephen Drane – 133,000
3. Luke Perry – 118,000
4. Tim Worsnop – 109,000
5. Jamie Flecknell – 82,000
6. Vince Marino – 80,000
7. Alex Skeggs – 56,000
8. Paul Harris – 54,000
9. Geoff Wing – 42,000
After a couple of hours play two of the bigger stacks held their nerve to see off the other 7 finalists and battle for the Vegas 100 prize. Steve Jones went up against Tim Worsnop in a Reading vs. Highwycombe battle. Both players caught a bit of the final board as Steve's K-3 held it's pre-flop advantage over Tim's 5-4 on a 4-7-K-K-10. With Tim at risk Steve Jones was crowned the Central England regional final champion.
Team Event Winner: Netherfield Tavern, Milton Keynes
Geoff Wing
Stephen Lordan
Garry Wing
Martin Wing