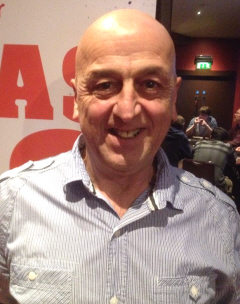 Results
1. Gareth Coleman – Edgcumbe Hotel, Yelverton
2. Sue Norsworthy – Chaddlewood Inn, Plymouth
3. Simon Jones – Tamar, Plymouth
4. Brian Blaxter – Edgcumbe Hotel, Yelverton
5. Roy Begg – Brendon Arms, Bude
6. Tony Lander – Ship Inn, Paignton
7. Jacca Hooper – Brendon Arms, Bude
8. Paul Stevens – Winstons, Paignton
9. Gary Pike – Winstons, Paignton
10. Mark Haslam – Chaddlewood Inn, Plymouth
A record field in the South West played the latest regional final in the Grosvenor Casino in Plymouth which saw another Redtooth Poker member qualify for our Vegas 100 National Final next year. Along with this £1,000+ top prize we also awarded £500 in cash and recognised the day's best performing venue. Once again this team award went to the Chaddlewood Inn in Plymouth who have somewhat dominated this region of late hosting 3 separate poker nights. Their Monday night gang took the honours thanks to Damien Wood, Sue Norsworthy, Mark Haslam & Luke Court.
Final Table Chip Stacks
1. Gareth Coleman – 127,000
2. Tony Lander – 67,000
3. Roy Begg – 43,000
4. Simon Jones – 43,000
5. Sue Norsworthy – 40,000
6. Jacca Hooper – 34,000
7. Paul Stevens – 32,000
8. Brian Blaxter – 31,000
9. Mark Haslam – 23,000
10. Gary Pike – 11,000
Edgcumbe's Gareth Coleman led the final 10 on 127,000 in chips which was pretty much double Tony Lander's stack in 2nd. As expected the shorter stacks exited the tournament one after the other until Gareth was left heads-up with Sue Norsworthy for a chance to win pub poker ultimate prize, Vegas 100. Unfortunately Sue couldn't get the better of Gareth as her J-10 couldn't beat Gareth's A-3 on a 4-3-9-4-9 board. Congratulations Gareth Coleman.
Team Event Winner: Chaddlewood Inn, Plymouth
Damien Wood
Sue Norsworthy
Mark Haslam
Luke Court