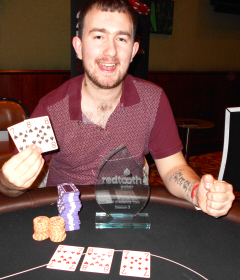 Results
1. Paul Lacey – Glovers Needle, Worcester
2. Jack Lawson – Acorn, Nuneaton
3. Peter Spackman – Easington, Banbury
4. Bill Barber – Easington, Banbury
5. Kwok Ng – Bear & Staff, Birmingham
6. Kane O'Toole – Hazelwell, Birmingham
7. Sean Palla – Digby, Birmingham
8. Keith Walker – Newlands Hotel, Coventry
9. Adam Baxter – Anker Inn, Nuneaton
10. Wayne Maunder – Rose & Crown, Coventry
Coventry's Las Vegas style Grosvenor Casino hosted our West Midlands Two final which is nearing capacity these days as the region continues to grow. This meant more players were in the hunt to qualify for our Vegas 100 National Final next year. The team award went to the Digby in Birmingham as they were represented by Sean Palla, Jan Palla, Tony Whitcombe & Kevin Beasley.
Final Table Chip Stacks
1. Jack Lawson – 170,000
2. Peter Spackman – 149,000
3. Paul Lacey – 111,000
4. Bill Barber – 101,000
5. Sean Palla – 97,000
6. Kwok Ng – 69,000
7. Adam Baxter – 44,000
8. Kane O'Toole – 32,000
9. Keith Walker – 28,000
10. Wayne Maunder – 22,000
Our heads-up encounter came down to a match between two long time Redtooth Poker members in Jack Lawson and Paul Lacey. The winner was declared once Paul Lacey flopped a full house with 8-7 against the 'at risk' Jack Lawson's A-4. The final board was 7-8-7-K-9 as Paul Lacey became our new West Midlands Two qualifier and latest Vegas 100 National Final.
Team Event Winner: Digby, Birmingham
Jan Palla
Tony Whitcombe
Sean Palla
Kevin Beasley