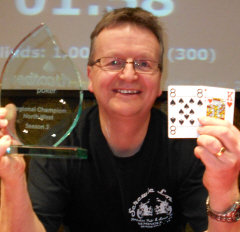 Results
1. Phil Clayton – Thatched House, Poulton-le-Fylde
2. Dave Cree – Red Lion, Manchester
3. Matthew Birch – Trimpell Sports & Social Club
4. Mike Henley – Orford, Warrington
5. Neil Kavanagh – Crown & Cushion, Warrington
6. Luke Bateson – Guild, Preston
7. Mariel Klimis – Oxfford, Macclesfield
8. Ashley Whitfield – Mulberry Tree, Warrington
9. Glen Malonney – Cotton Tree, Failsworth
The fabulous Grosvenor Casino on Bury New Road in Manchester welcomed players from Manchester and surrounding areas, the home region of our champion Gareth Tomlinson. The award for best represented venue went to the Crown & Cushion in Warrington who were well represented by Dave Campbell, Neil Kavangah, Anna Barker & Mark Lee.
Final Table Chip Stacks
1. Matthew Birch – 145,000
2. Luke Bateson – 123,000
3. Mike Henley – 99,000
4. Phil Clayton – 98,000
5. Dave Cree – 96,000
6. Neil Kavanagh – 73,000
7. Glen Malonney – 56,000
8. Mariel Klimis – 50,000
9. Ashley Whitfield – 33,000
Matthew Birch, the chip leader at the start of the final, couldn't convert his chip lead as he exited in 3rd place leaving Phil Clayton and Dave Cree to battle for the day's top prize. The final hand was like something out of the movies as Phil's K-8 was behind Dave's A-3 pre-flop. An amazing flop came down as K-A-K only to be followed by the 4th K AND another A! With Dave Cree at risk he was eliminated in 2nd place with Phil Clayton being crowned the new North West champion.
Team Event Winner: Crown & Cushion, Warrington
Dave Campbell
Neil Kavanagh
Anna Barker
Mark Lee