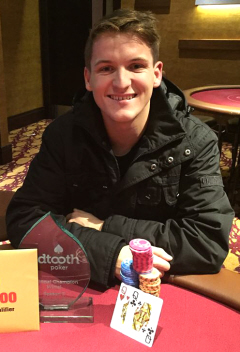 Results
1. Jack Bradley – Farmers Arms, Wirral
2. Alan Ainscough – Charnley Arms, Wigan
3. David Newell – Llay Miners Welfare, Wrexham
4. Carl Boyd – Bromborough, Wirral
5. David Kendrick – Willows Hotel, Upton
6. Barry Brown – Ellesmere Port Conservative Club, Ellesmere Port
7. Al Morris – Halfway House, Prenton
8. John Bethel – Golden Eagle, Blackpool
9. Peter Heaton – Lake, Wirral
10. Craig Jenkinson – Charnley Arms, Wigan
Our Wirral regional final was played at the Grosvenor Casino in the wonderful town of New Brighton. Players from the Wirral and surrounding areas competed for a seat into our Vegas 100 National Final next year. Cash prizes and trophies were also awarded during a fantastic day of poker. The team event trophy went to the Charnley Arms in Wigan so a big congratulations to Alan Ainscough, Steven Lamb, Craig Jenkinson & Tom Champion.
Final Table Chip Stacks
1. Peter Heaton – 105,000
2. David Kendrick – 84,000
3. David Newell – 76,000
4. Alan Ainscough – 63,000
5. Al Morris – 61,000
6. Jack Bradley – 48,000
7. Barry Brown – 44,000
8. Carl Boyd – 40,000
9. John Bethel – 28,000
10. Craig Jenkinson – 17,000
Our chip leader Peter Heaton had a final to forget as he exited in 9th place! Alan Ainscough and Jack Bradley made the heads-up match with Vegas on the horizon. A winner was found as Jack was dealt a monster in Q-Q to Alan's 8-7 with a final board of 4-6-3-Q-9 only confirming Jack Bradley as the new Wirral regional final champion.
Team Event Winner: Charnley Arms, Wigan
Alan Ainscough
Steven Lamb
Craig Jenkinson
Tom Champion