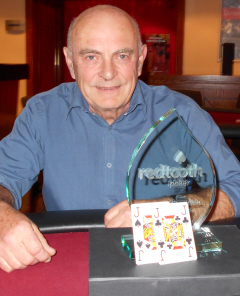 Results
1. John Baron – Glen, Leicester
2. Darren Pooley – Argosy, Derby
3. Jason Gregory – Oak & Acorn, Derby
4. Mark Warner – Boot & Shoe Inn, Newark
5. Tez Duxbury – Oak & Acorn, Derby
6. Steve Crane – Grove Pub, Newark
7. Matt Bentley – Old Post Office, Nottingham
8. Jim McKeown – Mundy Arms, Heanor
9. Rob Slater – Huntsman, Cheadle
Nottingham's Grosvenor Casino hosted our East Midlands regional final with a seat into our Vegas 100 National Final up for grabs, along with the usual £500 cash and UK National Final seats. The first award was the team trophy which went to the Old Post Office in Nottingham. Congratulations to Andrew Wright, Bob Porter, Roger McMinn & Matt Bentley who take a glass trophy back to the venue.
Final Table Chip Stacks
1. Mark Warner – 182,000
2. Steve Crane – 130,000
3. Darren Pooley – 108,000
4. Tez Duxbury – 69,000
5. Matt Bentley – 66,000
6. John Baron – 53,000
7. Rob Slater – 36,000
8. Jim McKeown – 34,000
9. Jason Gregory – 23,000
After around 8 hours of play we were down to our heads-up match between John Baron and Darren Pooley with both players eager to qualify for our National Final in Las Vegas. The final hand saw Darren in an unfortunate situation as his A-9 was behind John's J-J pre-flop. Darren did take the lead on a A-K-4 flop until we cruelly saw a J on the river to give John the victory and with it a trip of a lifetime to Las Vegas.
Team Event Winner: Old Post Office, Nottingham
Andrew Wright
Bob Porter
Roger McMinn
Matt Bentley