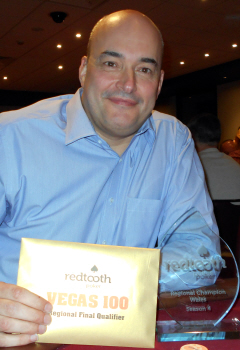 Results
1. David Wall – Black Lion, Cardiff
2. Daniel Barkley – Birchgrove, Cardiff
3. Meirion Harries – Masons Arms, Newport
4. Gary Watts – Man of Gwent, Newport
5. John Padfield – Gwerthoner Social Club, Bargoed
6. Bernard Wright – Gwerthoner Social Club, Bargoed
7. Kayleigh Cooper – Tafarn Y Felin, Llanelli
8. Benjamin Shatford – Man of Gwent, Newport
9 Sion Gundy – Molloys, Bridgend
10. Carl Watson – Barn, Llantrisant
The Grosvenor in Cardiff hosted our Wales regional final, the final Welsh seat into our Vegas 100 National Final. The best represented venue was awarded in the shape of a crystal glass trophy which was claimed by the Gwerthoner Social Club in Bargoed. Congratulations to John Padfield, Bernard Wright, Andrew Ashcroft & Kerry Bain.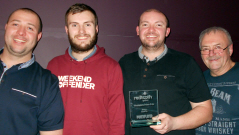 Final Table Chip Stacks
1. Gary Watts – 110,000
2. John Padfield – 67,000
3. Meirion Harries – 64,000
4. Daniel Barkley – 55,000
5. Sion Gundy – 54,000
6. Bernard Wright – 48,000
7. Kayleigh Cooper – 42,000
8. Benjamin Shatford – 38,000
9. David Wall – 26,000
10. Carl Watson – 12,000
After around 7 hours of play Gary Watts led the final with a big stack, nearly double of his closest rival John Padfield. However, this final was the story of the short stack as David Wall soon built on his 26,000 stack to make the heads-up match against Daniel Barkley. David then went on to claim the Wales regional final title in unconventional fashion as his 10-6 beat Daniel's A-K on a 10-10-A-7-4 board. Congratulations David.