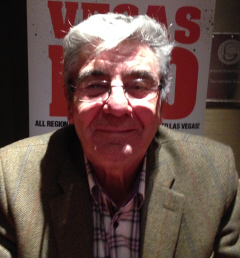 Results
1. Brian Tannerhill – Easthouses Miners Welfare, Dalkeith
2. Dennis McCormack – Old Brewery, Alloa
3. Martin Gray – IQue Cafe Bar, Kirkintilloch
4. Adam Weir – Fountain Bar, Aberfeldy
5. Graham Smith – IQue Cafe Bar, Kirkintilloch
6. Tam Doherty – Crofters, Edinburgh
7. Fraser Silvestro – Gartocher, Glasgow
8. Nick Wain – Fountain Bar, Aberfeldy
Our South Scotland final was hosted by the Grosvenor Casino in Glasgow which saw a turn out in excess of 90% as they all sat down to battle for the top prize of the day and the final South Scotland seat into May's Vegas 100 National Final. £500 was also shared amongst places 2nd to 8th.
The best represented venue was the Glenpark in Ayr who had 3 top 20 finishers in Charlie Johnston, Andrew Maitland & John Maitland. Calum McNab also represented the venue with a top 30 finish.
Final Table Chip Stacks
1. Dennis McCormack – 90,000
2. Graham Smith – 59,000
3. Adam Weir – 45,000
4. Brian Tannerhill – 40,000
5. Martin Gray – 36,000
6. Tam Doherty – 25,000
7. Fraser Silvestro – 22,000
8. Nick Wain – 17,000
Dennis McCormack started the final in the best shape on 90,000 chips with Nick Wain the short stack on just 17,000. Dennis worked his way through the field to make the heads-up encounter against Brian Tannerhill with a trip to Las Vegas going to the winner and £200 in cash going to the runner-up. The tournament finished in an unfortunate way for Dennis as his K-5 couldn't hold it's pre-flop advantage over Brian's Q-5 as we saw a A-Q-Q-K-2 board. Congratulations Brian and we'll see you in Vegas!