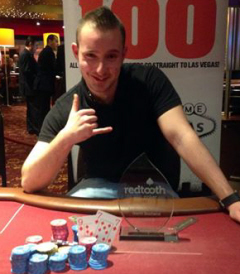 Results
1. Oskar Miller – Pockets, Inverness
2. Lorna Matheson – Dows, Inverness
3. Ian Winton – Northern Bar, Aberdeen
4. Andy Swan – Wig, Aberdeen
5. Michael Forde – Old Bank Bar, Aberdeen
6. Pat Stewart – Mecca Bingo, Aberdeen
7. Rhyan Begg – Market Arms, Aberdeen
8. Gerry Forbes – Mecca Bingo, Aberdeen
9. Leisa Miller – Mither Tap, Aberdeen
The final round of regional finals for our upcoming National Final in Las Vegas started in Aberdeen with the day's winner qualifying straight into Vegas 100. £500 was also shared between 2nd-8th with the best represented venue being awarded with a crystal glass trophy.
The Mecca Bingo in Aberdeen won the team trophy having 2 finalists and 3 players inside the top 20. Congratulations to Gerry Forbes, Moira Milne, Pat Stewart & Lewis Dalgleish.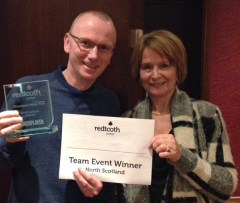 Final Table Chip Stacks
1. Andy Swan – 133,000
2. Pat Stewart – 72,000
3. Ian Winton – 64,000
4. Oskar Miller – 51,000
5. Leisa Miller – 45,000
6. Rhyan Begg – 37,000
7. Gerry Forbes – 24,000
8. Lorna Matheson – 12,000
9. Michael Forde – 8,500
Andy Swan led the final table with a healthy stack of 133,000, nearly double the stack of his closest rival. However, Andy fell just short of the day's top prize finishing in 4th place just behind Ian Winton in 3rd as Oskar Miller and Lorna Matheson battled for the remaining two prizes. The tournament came to an end as Oskar tabled 9-7 to Lorn'as K-10 with Lorna at risk. The board ran off A-9-5-2-J to give Oskar the win and with it he became the latest North Scotland regional final champion.