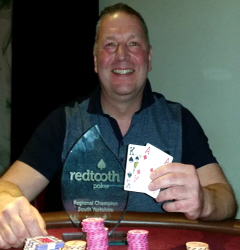 Results
1. Mick Clark – Mosborough Miners Welfare, Mosborough
2. Keith Pickersgill – Players Lounge, Sheffield
3. David Hunter – Birchwood Social Club, Lincoln
4. Michael Rispin – Sword Dancer, Handsworth
5. Mark Dickinson – Cock Inn, Sheffield
6. Jim Fletcher – Sportsman, Doncaster
7. Nick Patterson – Tut N Shive, Doncaster
8. Samantha Demiraj – Three Horseshoes, Wickersley
9. Dena Kennedy – Birchwood Social Club, Lincoln
10. Terry Fidler – Half Moon, Sheffield
Sheffield's Grosvenor Casino welcomed nearly 200 Redtooth Poker members as the final South Yorkshire seat into our Vegas 100 national final was awarded. Cash was also up for grabs along with a handful of UK National Final seats.
The best represented venue was the Birchwood Social Club who had two finalists on the day. Congratulations to Dena Kennedy, John Hussey, David Hunter & Barry Dovey who take back a nice glass trophy for their efforts.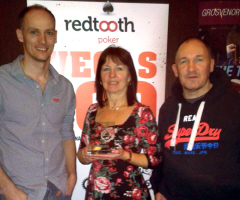 Final Table Chip Stacks
1. Michael Rispin – 178,000
2. Keith Pickersgill – 158,000
3. David Hunter – 155,000
4. Nick Patterson – 69,000
5. Mick Clark – 68,000
6. Samantha Demiraj – 66,000
7. Dena Kennedy – 55,000
8. Jim Fletcher – 54,000
9. Terry Fidler – 14,000
Michael Rispin led the way on 178,000 chips but wasn't quite able to convert this stack into a victory. With Rispin's 4th place finish it was another Michael who shone on the day as Mick Clark defeated previous Vegas 100 member & 2013 RPT Sheffield champion Keith Pickersgill to claim the South Yorkshire title and qualify for our Vegas 100 National Final. Congratulations Mick.