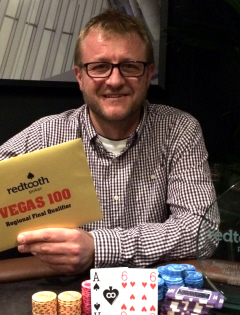 Results
1. Paul Taylor – Rovers Tye, Colchester
2. Vijay Patel – Black Horse, Hounslow
3. Eddy Wojtek – Ruse, London
4. Paltan Ace – Five Bells, Finchley
5. Thomas Price – Claret Wine Bar, Cheam
6. Alessandro Irranca – London Apprentice, Isleworth
7. Chris Crosby – Rovers Tye, Colchester
8. Graham Case – Saracens Head, Henley-on-Thames
9. Gediminas Grabauskas – Rovers Tye, Colchester
10. Nick Marshall – Horse & Groom, Streatham
London's popular 'The Poker Room' hosted our West London regional final which would offer one final place into VEGAS100. With nearly 200 players attending, only 1 would leave with the day's top prize. Let the battle commence!
Before we got to the business end, however, we had to find the day's best represented venue. This award went to the Fountain in New Malden so congratulations to Douglas Sharp, Peter Sharp, Michael Burningham & Leo Udeh.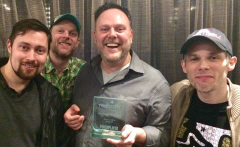 Final Table Chip Stacks
1. Paul Taylor – 163,000
2. Thomas Price – 129,000
3. Chris Crosby – 120,000
4. Alessandro Irranca – 106,000
5. Paltan Ace – 106,000
6. Graham Case – 99,000
7. Gediminas Grabauskas – 84,000
8. Vijay Patel – 71,000
9. Eddy Wojtek – 59,000
10. Nick Marshall – 12 ,000
We went into our final of 10 players with Paul Taylor holding the biggest stack on 163,000 on a relatively even final table. However, Paul didn't give up his stack lightly as he made the heads-up match against an impressive Vijay Patel who battled back from 71,000. Unfortunately for Vijay there was no stopping Paul as he took the title holding A-6 on a K-5-6-A-Q against Vijay's 9-9. Congratulations Paul.