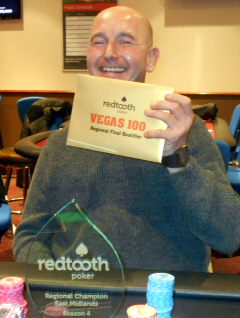 Results
1. Tony Jobling – Hemlock Stone, Nottingham
2. Duncan Reymen – Castle Barge, Newark
3. Caroline Quinn – Green Dragon, Hucknall
4. Roy Forster – Eaton Farm, Long Eaton
5. Joe Bevans – Cross Keys, Stoke-on-Trent
6. Scott Corbett – Cherry Tree, Melton Mowbray
7. Phillip Cox – Mackworth Hotel, Derby
8. James Whittle – Harrier, Peterborough
9. Dave Walker – Muddle Go Nowhere, Grantham
The Grosvenor Casino in Nottingham welcomed a huge turnout which packed the card room from wall to wall. Out of the 156 runners only one would leave with the greatest prize in pub poker, qualification into VEGAS100!
The first award of the day was presented to the best represented venue. On this occasion the Green House in Belper took the honours thanks to Tom Bakel, Carl Buck, Philip Bryan & Daniel Scott.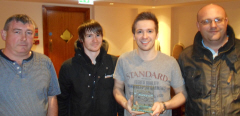 Final Table Chip Stacks
1. Tony Jobling – 296,000
2. Duncan Reymen – 122,000
3. Joe Bevans – 113,000
4. Caroline Quinn – 111,000
5. Roy Forster – 47,000
6. Scott Corbett – 43,000
7. Phillip Cox – 38,000
8. Dave Walker – 35,000
9. James Whittle – 24,000
Our 9 player final saw Tony Jobling lead with a huge stack of nearly 300,000!! He also went on to take out 7 of the other 8 finalists in a complete demolition job. After Caroline Quinn had wagered her last "wonka bar", therefore being eliminated in 3rd place, Tony found himself heads-up with Duncan Reymen from the Castle Barge in Newark. Needless to say the heads-up encounter didn't last too long as true to form Tony's J-2 smashed a board of J-8-2-J-8 to outdraw Duncan's K-10 and become the new East Midlands champion. Good luck in Vegas Tony!