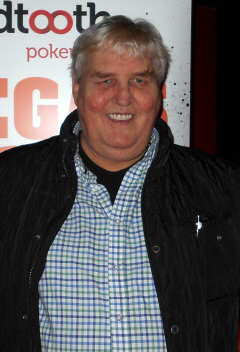 Results
1. Gerard Boyd – Sun Inn, Newcastle
2. David Barker – Mecca Bingo, Hartlepool
3. John Brown – Bute Arms, Highspen
4. Warren Whitaker – Wheatsheaf, Newcastle
5. Peter Britton – Joseph Pease, Darlington
6. Dale Thompson – Owington Farm, Billingham
7. Dave Parkin – Grey Horse, Penshaw
8. Dave Hudson – Westerhope Golf Club, Newcastle
9. Paul Saunders – Owington Farm, Billingham
Newcastle's Grosvenor Casino hosted our North East regional final again where Vegas fever was very much in the air. The day's winner would be off to Las Vegas in May to compete in our VEGAS100 national final. £500 would be shared between the unfortunate players who just missed out on this fantastic prize.
The best represented venue was the Grey Horse in Penshaw, a long serving Redtooth Poker venue! Congratulations to Mark Wilkins, Keith Dobinson, Dave Parkin & Lee Wilkins. They take a nice crystal glass trophy back to the pub for display.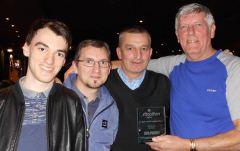 Final Table Chip Stacks
1. Peter Britton – 128,000
2. John Brown – 114,000
3. Warren Whitaker – 106,000
4. David Barker – 66,000
5. Dave Parkin – 62,000
6. Gerard Boyd – 61,000
7. Paul Saunders – 46,000
8. Dave Hudson – 43,000
9. Dale Thompson – 16,000
A 9 player final got under way with previous VEGAS100 qualifier Peter Britton leading on 128,000. The rest, however, were not too far behind in what was a very even final table. An hour or two after we'd started we had our heads-up encounter between David Barker from the Mecca Bingo Club in Hartlepool and Gerard Boyd from the Sun Inn in Newcastle. The final hand was unfortunate for David as his very playable A-4 ran into Gerard's Q-Q with the chips undoubtedly going into the middle. The final board ran off 7-K-3-3-K to make Gerard Boyd the latest North East champion and the region's latest VEGAS100 qualifier.