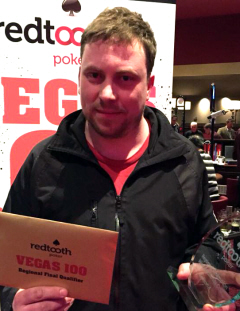 Results
1. Dave Brewer – Britannia Inn, Telford
2. Chris Whitehouse – Claregate, Wolverhampton
3. Dean Brookes – Fox & Dogs, Sutton Coldfield
4. Jagdeep Samra – Hamstead, Birmingham
5. Scott Forker – Claregate, Wolverhampton
6. Dave Beard – Albion, Wolverhampton
7. Donald Hall – Horse & Jockey, Wednesbury
8. Patrick Walcott – Beggars Bush, Birmingham
9. John Stephens – Old Horns, Birmingham
10. Martin Boddison – Firs Inn, Wolverhampton
Our final regional final of year 8 took place at the Grosvenor Casino in Walsall. One more lucky player would be off to Las Vegas in May to compete in our VEGAS100 National Final with a share of £500 going to the players who just missed out.
We also awarded the best represented venue with a team trophy to take back to the pub. Congratulations to the Drakes Drum in Birmingham who were represented by Mike Duda, Mark Walters, Michelle Woodley & James Vaughan.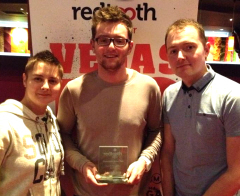 Final Table Chip Stacks
1. Chris Whitehouse – 148,000
2. Scott Forker – 130,000
3. Dave Brewer – 110,000
4. Dave Beard – 102,000
5. Jagdeep Samra – 86,000
6. Martin Boddison – 49,000
7. Dean Brookes – 46,000
8. Donald Hall – 40,000
9. John Stephens – 39,000
10. Patrick Walcott – 10,000
Our final table of 10 saw Chris Whitehouse lead the way on 148,000 chips which was enough to make the heads-up match against Telford's Dave Brewer. The tournament came to a close with Dave holding A-2 to Chris's Q-9 and with a board of 3-8-A-9-6 Dave Brewer was the new West Midlands One champion and latest VEGAS100 qualifier.