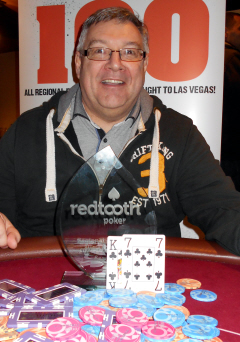 Results
1. Graham Hussey – Cross Keys, York
2. Chris White – Station, Leeds
3. Kevin Winteringham – Melbourne, York
4. Andrew Carr – West End, Cleckheaton
5. Alex Almond – Station, Leeds
6. Bora Akgul – Melbourne, York
7. Brian Welsh – Fox Inn, York
8. Alan Tate – Ring O Bells, Shipley
9. Howard Wilson – Black Bull, Leeds
10. Peter Greenfield – Templar, Leeds
The Grosvenor Casino on Merrion Way in Leeds once again hosted the West Yorkshire regional final. An over 90% turnout were all in the hunt for the most sought after prize in pub poker, VEGAS100. £500 would also be shared amongst the day's highest finishers.
Another excellent prize to be awarded was the team trophy for the best represented venue. Congratulations to the Drysalters who were represented by Julie Bailey, Ken Dodson, Terry Kerr & Rob Barnes.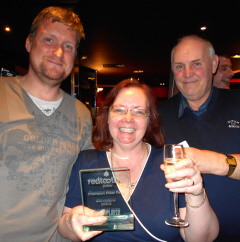 Final Table Chip Stacks
1. Kevin Winteringham – 275,000
2. Chris White – 130,000
3. Alan Tate – 106,000
4. Graham Hussey – 87,000
5. Bora Akgul – 74,000
6. Howard Wilson – 62,000
7. Alex Almond – 61,000
8. Peter Greenfield – 47,000
9. Brian Welsh – 41,000
10. Andrew Carr – 38,000
Our 10 player final had 3 previous VEGAS100 qualifiers in Alan Tate, Brian Welsh & Andrew Carr but neither of them could make it to the heads-up match. The final two prizes were contested between Chris White and Graham Hussey with VEGAS100 qualification going to the winner. The tournament came to an end with Chris holding J-3 to Graham's K-7 and a board of K-2-4-J-A gave Graham the check mark and with it the title of West Yorkshire champion.