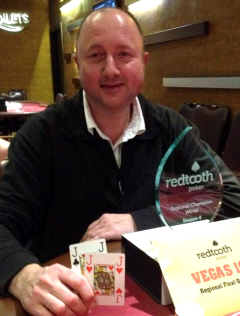 Results
1. Mark Higgins – Stag Inn, Wigan
2. Arron Davies – Caskey's, Rhyl
3. Charlie Fox – Horse & Jockey, Melling
4. Owen Brazier – Madisons Cafe Bar, Ellesmere Port
5. Mick Byrne – Halfway House, Prenton
6. Steve Craven – Bromfield Arms, Chester
7. Adam Jones – Llay Miners Welfare, Wrexham
8. Pete Warren – Stag Inn, Wigan
9. Barney Clark – White Lion, Buckley
10. Dan Weeks – Lake, Wirral
Players from the Wirral and surrounding areas attended the Wirral regional final at the Grosvenor Casino in New Brighton. The day's winner would qualify for our VEGAS100 national final with cash prizes and a team trophy also up for grabs, as well as seats into our UK National Final.
The team event was won by the Stag Inn in Wigan who were well represented by Miles Carrington, Michael Davids, Pete Warren & Mark Higgins.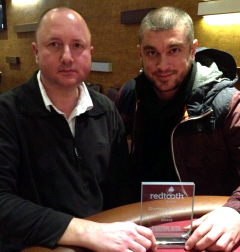 Final Table Chip Stacks
1. Arron Davies – 152,000
2. >Mick Byrne – 96,000
3. Mark Higgins – 76,000
4. Steve Craven – 65,000
5. Pete Warren – 44,000
6. Owen Brazier – 42,000
7. Dan Weeks – 40,000
8. Barney Clark – 27,000
9. Charlie Fox – 22,000
10. Adam Jones – 20,000
Our 10 player final saw Arron Davies lead the pack on 152,000 in chips so was a favourite to make the heads-up shootout for the day's top prize, which he duly did. Charlie's elimination in 3rd place left Arron to battle with Mark Higgins who was looking for a double trophy haul. Then final hand was a 'cooler' for Arron as his 7-7 faced Mark's J-J with Arron at risk. The final board ran off 8-5-2-10-8 to crown Mark Higgins the new Wirral regional final champion.