The conclusion of poker's richest and most prestigious poker tournament, the 40th annual World Series of Poker featuring the November Nine!!!
After…………..
*6,494 players started the Main Event
*156 hours worth of playing poker
*129,880,000 chips in play
*$61,043,600 prize pool
We finally get to meet our 2009 November Nine…..
Player Name Age Town Chip Count
DARVIN MOON 45 OAKLAND, MARYLAND 58,930,000
ERIC BUCHMAN 29 HEWLETT, NEW YORK 34,800,000
STEVEN BEGLEITER 47 CHAPPAQUA, NEW YORK 29,885,000
JEFF SHULMAN 34 LAS VEGAS, NEVADA 19,580,000
JOSEPH CADA 21 SHELBY TOWNSHIP, MICHIGAN 13,215,000
KEVIN SCHAFFEL 51 CORAL SPRINGS, FLORIDA 12,390,000
PHIL IVEY 33 LAS VEGAS, NEVADA 9,765,000
ANTOINE SAOUT 25 SAINT MARTIN DES CHAMPS, FRANCE 9,500,000
JAMES AKENHEAD 26 LONDON, UNITED KINGDOM 6,800,000 (on the left in the pic)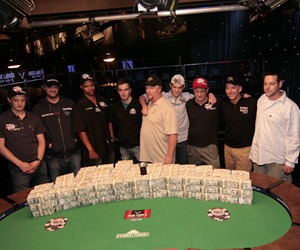 Congratulations to all the players who managed to battle their way through the enormous field and earn their respective seat at the final table.
I would just like to take this opportunity to wish James all the best in November and is sure Im saying this on behalf of all the Redtooth Poker players……Good Luck!!!!!!!!!
Scott Marsh
National Poker Manager
Redtooth Poker