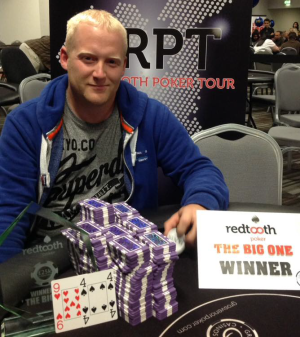 WINNER – Chris Appleby – Epsom River Club, Epsom
£5,500*
02 James Gallacher – I-Que Cafe Bar, Kirkintilloch (£3,500*)
03 Dave Bell – West End, Gomersall (£3,500*)
04 Antonio Almeida – New Club, Oxford (£3,500*)
05 Andrew William – Star & Garter, Portsmouth (£1,500)
06 Colin Gray – Kicking Dickey, Great Dunmow (£1,250)
07 Krissie Grayson – Half Moon, Sheffield (£1,000)
08 Richard Waller – Snooty Fox, Crawley (£750)
09 Craig Dowsett – Sir Isaac Newton ,Grantham (£500)
10 Steve Emery – Green Star, Stoke (£350)
11 Simon Hearn – London Road Brewhouse, Southampton (£250)
12 Jim McKeown – Langley Mill Miners Welfare, Langley Mill (£250)
13 Darren Lane – Red Herring, Coppull (£250)
14 Jason Athay – Shropshire Online (£250)
15 Carl Morgan – Lord Eldon, Knutsford (£250)
16 Les Parmenter – Woodman, Banstead (£180)
17 Norman Falconer – Mither Tap, Aberdeen (£180)
18 Steve Lansdale-Brown – Oakhaven Poker Room, Mattishall (£180)
19 Chris Organ – Red Lion, Kings Heath (£180)
20 Shane Connolly – Lord Hill, Market Drayton (£180)
21 Diana John – Royal Oak, Gloucester (£150)
22 Katy McAulay – Windsor, London (£150)
23 Graeme Evans – B52's, Horsham (£150)
24 Mark Freeman – Mosborough Miners Welfare, Mosborough (£150)
25 Phillip Richardson – Dun Cow, Stevenage (£150)
26 Chris Tuzinkiewicz – Haywain, St Ives (£150)
27 Steve Bloor – Buck Inn, Sale (£150)
28 Ian Atkinson – Oakhaven Poker Room, Mattishall (£150)
29 Alex Bakothanasis – Express Inn, Malvern (£150)
30 Rob Staples – Challow British Legion, Wantage (£150)
* The final 4 players agreed on a deal.
Our biggest ever tournament on UK soil took place as part of the record breaking Goliath poker festival. Never before have our members been apart of a Redtooth Poker tournament that boasts a £25,000 guaranteed prize-pool. With a total of 306 buy-ins, we were just short of hitting the ambitious guarantee but we were confident our members, along with The Nuts Poker League members, would show up in force to get us at least close and they certainly did that!
After a tense and exciting 13 hours of poker, Chris Appleby toppled all who attended to take away the £5,500 1st prize after a deal was struck when 4-handed. The final table of 10 lasted around 3 hours as a nice 20,000 starting stack saw over 6,000,000 chips in play!
If you're not a member of the UK's biggest pub poker league, why not become a member? Find your nearest league here and maybe you could be taking home a share of £25,000.