VEGAS100 Qualifiers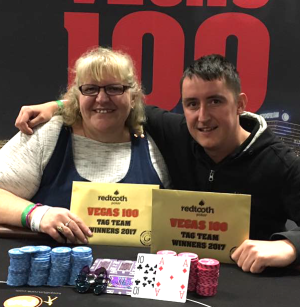 01Slackers – Dawn Burnip & Liam Hamilton
02 Blondie & Baldie – Luke Wensley & Layla Roberts (£900)
03 Couple of Fannies – James Gallacher & Martin Campbell (£600)
04 Divorce is on the Cards – Norman Falconer & Lynn Mackintosh (£400)
05 Preston Pals – Paul Barber & Joseph Smith (£290)
06 Windsor – Mark Hammond & Jon Tandy (£230)
07 Flip Flop – Phillip Wing & Tracie Wing (£190)
08 Good Looking Bar Stewards – Liam Arnold & James McPherson (£160)
09 Gemini Brothers – Richard Coleman & Dave Havenhand (£130)
10 Redgoof Warriors – Mark Freeman & Nick Clifton (£100)

Final Table Chip Stacks
01 Windsor – 173,800
02 Slackers – 124,100
03 Divorce is on the Cards – 100,800
04 Good Looking Bar Stewards – 93,700
05 Preston Pals – 87,800
06 Gemini Brothers – 83,700
07 Couple of Fannies – 83,600
08 Redgoof Warriors – 67,800
09 Blondie & Baldie – 60,600
10 Flip Flop – 58,700
After our hugely successful £25,000 GTD tournament, a first for Redtooth Poker, we decided to continue that theme on the Sunday as well. This time our Tag Team winners would both win a VEGAS100 seat for the first time ever!
This is only the 2nd time we have ran a Tag Team event, the first time was as a side event for RPT Blackpool back in 2016 which attracted 54 teams. This time we pulled in a huge 94 teams creating a total prize-pool of over £5,000!! This took our weekend prize-pool to OVER £30,000!!!
The new UK Pub Poker Champion, Patrick Buchanan, was involved in this tournament after playing the Goliath on Saturday, and our champ breezed into Day 2 with a solid 160,000 stack. Patrick teamed up with Sergio Ferdenzi (The Hunters) for the Tag Team but unfortunately for them they exited in 27th position.
A prize was also awarded for the events best team name. The winning name, chosen by the card room manager, was Big Willy & His Lamb made up by Will Norsden & Daniel Lambert.