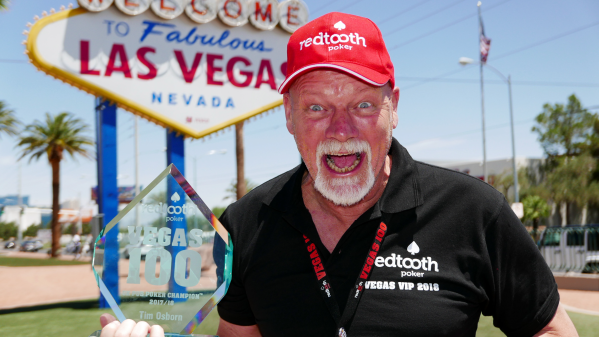 What is VEGAS100?
In 2012, Redtooth Poker revolutionised pub poker in the UK by introducing VEGAS100, a concept taking the UK's top 100 poker players, which are found via regional, national and online qualifiers, to the poker capital of the world, Las Vegas, to join the VEGAS100 experience and compete for the title of UK Pub Poker Champion. 100 players would travel across the pond but only 1 would return as the champion. Birmingham's Patrick Buchanan emerged victorious last year to become our 2nd consecutive West Midlands champion but would he hold onto his crown or would a new star emerge from the desert of Las Vegas?
First Player Out
We kicked the tournament off on time as 'shuffle up 'n' deal' was announced at 12noon. With our VEGAS100 final offering an exceptional structure it took nearly 2 hours before we lost our first player. The VEGAS100 structure is designed to give all qualifiers a great Las Vegas poker playing experience, even for the first player out! The unlucky player on this occasion was Player of the Year nominee Andy Gove from the Catherine Wheel in Newbury. Andy departed our feature table and had a quick chat with Redtooth Poker's Pete Thompson.
Last Year's Uk Pub Poker Champion Falls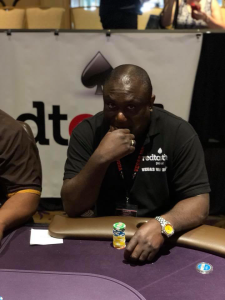 Andy's elimination triggered further eliminations with some surprise names falling early including last year's UK Pub Poker Champion Patrick Buchanan (left) who fell in 74th position. Patrick was full of confidence going into the final and was hoping to be the first ever back-to-back Redtooth Poker champion and this confidence was justified with a good showing in the welcome event by finishing in 19th position out of nearly 200 players. Unfortunately it wasn't to be but one thing is for sure, Patrick will go down as one of our greatest ever champions and now holds the record for the most money won during his sponsorship year.
Our Player of the Year nominees generally struggled on what was a tough day for the majority of them. However, Ron Simmons from the Queens Head in Gretna went on to hit the final table finishing in 7th position to take home £500. Unfortunately for Ron, the Player of the Year voting had already been completed before the final had started! Mike Yeo finished in 40th position with the 2017/18 RPT leaderboard winner Liam Hamilton being eliminated in 45th.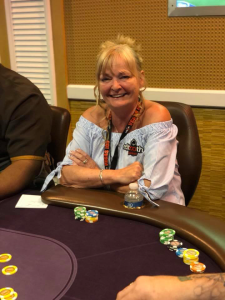 Player of the Year winner Caroline Quinn had a tough day and finished in 92nd position.
After around 9 hours of play we hit our final 20 players. Amongst them were our two remaining female players with Nottingham's Josie Marston and Gloucester's Diana John both hitting the final table with healthy stacks. However, it was Warrington's Andrew Johnson who led the final 20 stacking around 295,000 chips.
Welcome our final 20 players
20th: Ian Winton – Northern Bar, Aberdeen
19th: Ashley Walker – Wharf Tavern, Solihull
18th: Ian Walker – Blyth Constitutional Club, Blyth
17th: Joseph Bergin – Mecca Bingo, Dagenham
16th: Stephen Beckwith – Wellington, Billingham
15th: Simon Penaluna – Cross Keys, Stoke-on-Trent
14th: Phillip Davidson – Three Crowns, Nottingham
13th: William Hughes – Charnley Arms, Wigan
12th: Hayden Horman – Trimpell Sports & Social Club, Morecambe
11th: Anthony Robinson – Spencer Sports & Social Club, Melksham
VEGAS100 2018 Final Table
With the Redtooth arena created by the Orleans Casino poker room which included tiered seating for spectators, giving our final table a WSOP feel, the remaining player's exited in the following positions…
10: Harry Close – Caledonian, Inverness
09: Diana John – Royal Oak, Gloucester
08: Jai Patterson – Crown Inn, Worcester
07: Ron Simmons – Queens Head, Gretna
06: Jason Hattrell – Fox & Duck, Buntingford
05: Josie Marston – Willow Tree, Nottingham
04: Jeff Dyer – Birchgrove, Cardiff
03: Andy Johnson – Butchers Arms, Warrington
Our final two players playing the heads-up match was Tim Osborn from the New Club in Oxford and Eddie Hunt from the King Harold in Harold Wood. The battle lasted around 30 minutes and came to an end when we had an all-in from Tim Osborn and a call from Eddie Hunt on a 2c-10d-5s 4h board. Tim tabled 10-4 to Eddie's 10-8 and when the Kh hit the river the tournament was over and Tim Osborn was crowned the NEW UK Pub Poker Champion.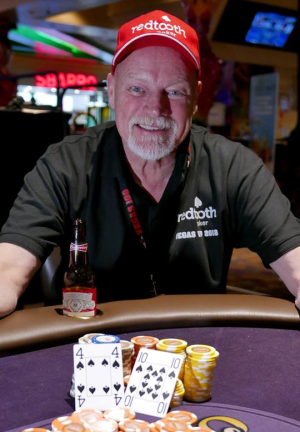 VEGAS100 Finishing Positions
01 – Tim Osborn – New Club, Oxford (£13,000 package)
02 – Eddie Hunt – King Harold, Harold Wood (£4,000)
03 – Andy Johnson – Butchers Arms, Warrington (£2,000)
04 – Jeff Dyer – Birchgrove, Cardiff (£1,500)
05 – Josie Marston – Willow Tree, Nottingham (£1,000)
06 – Jason Hattrell – Fox & Duck, Buntingford (£750)
07 – Ron Simmons – Queens Head, Gretna (£500)
08 – Jai Patterson – Crown Inn, Worcester (£400)
09 – Diana John – Royal Oak, Gloucester (£300)
10 – Harry Close – Caledonian, Inverness (£200)
11 – Anthony Robinson – Spencer Sports & Social Club, Melksham (£200)
12 – Hayden Horman – Trimpell Sports & Social Club, Morecambe (£200)
13 – William Hughes – Charnley Arms, Wigan (£150)
14 – Phillip Davidson – Three Crowns, Nottingham (£150)
15 – Simon Penaluna – Cross Keys, Stoke-on-Trent (£150)
16 – Stephen Beckwith – Wellington, Billingham (£100)
17 – Joseph Bergin – Mecca Bingo, Dagenham (£100)
18 – Ian Walker – Blyth Constitutional Club, Blyth (£100)
19 – Ashley Walker – Wharf Tavern, Solihull (£100)
20 – Ian Winton – Northern Bar, Aberdeen (£100)
21 – Scott Swain – Ella's Bar, Dudley
22 – Gary Hilton – Seven Woods, Warrington
23 – Phillip Longley – Brewery Tap, Worksop
24 – Jason O'Reilly – Cross Keys, Canterbury
25 – Paul Murphy – Royal British Legion, West Wickham
26 – Chris Ledwood – Hammer & Pincers, Sheffield
27 – Johnathan Padfield – Gwerthoner Social Club, Gilfach Bargoed
28 – Mel Barkworth – Mecca Bingo, Hartlepool
29 – Peter Allen – Old Farmhouse, Totton
30 – Gemma Pepper – Ship Inn, Paignton
31 – Ross McKenzie – Rovers Tye, Colchester
32 – Josh Knapton – Commercial, Leeds
33 – Stephen Aplin – Winton WMC, Bournemouth
34 – Tristan Eley – Leather Bottle, Merton
35 – David Taylor – West End, Cleckheaton
36 – Martin Fordham – Green Dragon, Hucknall
37 – Ross Slater – Lonsdale, Newcastle
38 – Daniel Parsons – Duke of Cornwall, Ivybridge
39 – Bruce Hearn – Snooty Fox, Crawley
40 – Mike Yeo – Royal Hotel, Atherton
41 – Richard Thomas – Rotunda Tavern, Cheltenham
42 – Pauline Hurt – Half Moon, Sheffield
43 – John Hussey – Plough Inn, Skellingthorpe
44 – Sandor Szabo – Granary, Elgin
45 – Liam Hamilton – Wheatsheaf, Darlington
46 – Michael Ashton – Fairmaid, Hull
47 – Chris Turk – Spencer Sports & Social Club, Melksham
48 – Peter Lucas – Golden Hind, Cambridge
49 – Peter Skutela – Duncow, Stevenage
50 – Trevor Brown – Lighthorseman, York
51 – Gareth Alyson – Greyhound, Blandford
52 – Richard Hughes – Marston Green Tavern, Birmingham
53 – Janine Sharkey – Travellers Rest, Leeds
54 – Ryan Caw – Oakwood Lounge, Alloa
55 – Aaron Chandler – Wrottesley Arms, Perton
56 – Sam Steele – Cathays Conservative Club, Cardiff
57 – Lee Froud – Tynewydd Inn, Barry
58 – John Hudgell – Q-Zone Sports Club, Oxford
59 – Jeremy Heard – Brendon Arms, Bude
60 – Tom Furber – Green Star, Stoke-on-Trent
61 – Tom Lawrence – Huntsman, Cheadle
62 – James Smyth – John Bell, Torquay
63 – Martin Emslie – Northern Bar, Aberdeen
64 – Robert Scott – Marine Football Club, Liverpool
65 – Pierce Speechley-Price – Pennington Sports & Social Club, Lymington
66 – Steve Bloor – Buck Inn, Sale
67 – Ciaran Curran – Swan Hotel, Prenton
68 – Thomas Todd – Old Brewery, Alloa
69 – Tony Baker – Assembly Rooms, Epsom
70 – Sean Smyth – Ridger, West Kirby
71 – Niki Slee – Stainton Inn, Middlesbrough
72 – Lance Daveney – Rising Sun, Wimbourne
73 – Brian Richardson – Halifax Snooker Club, Halifax
74 – Patrick Buchanan – Hunters Moon, Birmingham
75 – Matt Cragg Red Barn, Bexley
76 – James Grayson – Scenario, London
77 – Stephen Williams – Lincolnshire Otter, Gainsborough
78 – Lee Collins – Journeys End, Birmingham
79 – Dawn Burnip – Red Lion, Darlington
80 – Tracie Wing – Thatched House, Poulton-le-Fylde
81 – Craig Rogerson – Park Hotel, Lancaster
82 – Neil Kavanagh – Crown & Cushion, Warrington
83 – Wayne Pretorius – Rose & Crown, Wivenhoe
84 – Craig Ball Coach & Horses, Ashbourne
85 – Shane Sissons – Fox Inn, York
86 – Mike Phelan – Beggars Bush, Birmingham
87 – Chris Allen – Greyhound, Claydon
88 – Adam Hoare – Bell Inn, Bovey Tracey
89 – Duncan Hutchings – Rashleigh Arms, St Austell
90 – Adrian Upfold – Lonsdale, Newcastle
91 – David Wilson – Tividale Football Club, Tividale
92 – Caroline Quinn – Green Dragon, Hucknall
93 – Andy Salisbury-Newman – Rushden WMC, Rushden
94 – Tom Graves – Beerhouse, Manchester
95 – Shaun Roberts – Sutton Park Hotel, Birmingham
96 – Bruce Gant – Greyhound, Wivenhoe
97 – Jason Ayres – Royal Oak, Borden
98 – Ben Burford – Chambers, Gloucester
99 – Andy Gove – Catherine Wheel, Newbury