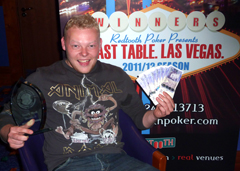 Please welcome our new South West Regional Final, which was played out at the Grosvenor Casino in Bristol. 135 were invited to the first ever South West Regional Final with five players making next year's National Final and eight sharing £1,000.
The Grosvenor was in silence as play began, with every qualifier hoping to be the first ever South West champion. These hopes were short lived for Arthur Randell and Andrew Smith as they failed to make the top 100 on the day.
The first South West Team Event was heavily contested. Neil Vigor, John Murray and Richard Impey took the honours on the day representing the Club @ Cricklade in Cricklade. The Squib in Bridgewater were their closest rivals in a tight contest.
The South West final table lined up as follows…
Seat 1: Mark Young – Brookhouse Farm, Swindon (17,000)
Seat 2: Chris Lowe – Sloop, Torquay (37,000)
Seat 3: Ian Pacey – Greyhound, Bridgewater (5,000)
Seat 4: Daniel Mitchell – Brookhouse Farm, Swindon (12,000)
Seat 5: Shane Herbert – Bell Inn, Yeovil (62,000)
Seat 6: Neil Vigor – Club @ Cricklade, Cricklade (172,000)
Seat 7: Steve Hunt – Ebdon Arms, W-S-M (23,000)
Seat 8: Daniel Timms – Village Inn, Swindon (185,000)
Seat 9: Thomas Lees – Kings Arms, Wantage (66,000)
Daniel Timms led the way as the final table got under-way. Daniel was hoping to achieve what so many of our chip leaders have done this weekend, which is to go on to claim the regional title. On the other end of the spectrum, there was no miraculous recovery from our short stack as Ian Pacey headed home in 9th place. The unfortunate bubble boy on the day was Chris Lowe, although Chris did leave us with £40 cash. The heads-up battle came down to the two Daniel's from our Swindon venues. Timms held the advantage as the chips went in the middle holding KT, but Mitchell wasn't too far behind with J9. The final board ran out AKT 8 2 in Timms favour which gave the South West their first ever regional champion. Congratulations Daniel Timms.
Cash Prize Winners
1. Daniel Timms – Village Inn, Swindon
2. Daniel Mitchell – Brookhouse Farm, Swindon
3. Neil Vigor – Club @ Cricklade, Cricklade
4. Shane Herbert – Bell Inn, Yeovil
5. Thomas Lees – Kings Arms, Wantage
6. Chris Lowe – Sloop, Torquay
7. Mark Young – Brookhouse Farm, Swindon
8. Steve Hunt – Ebdon Arms, W-S-M
National Final Qualifiers
Daniel Timms
Daniel Mitchell
Neil Vigor
Shane Herbert
Thomas Lees
Team Winners
Club @ Cricklade, Cricklade