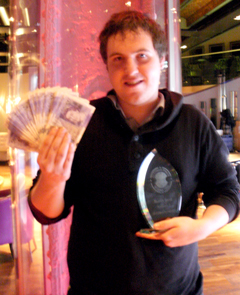 Manchester 235 was a hive of activity on Sunday 5th June as Redtooth rolled in and were met by an excellent turnout on the day. Five players would qualify for the National Final in March 2012.
As play got under-way the Griffin in Bowden had a nightmare start as two of their three players were amongst the first three players out. Richard Pulford and Alan Lamberton will be hoping for slightly better luck next time around. They sandwiched Chris Beard from the Grey Horse in Stockport as all 3 players hit the rail early.
A few outstanding venues on the day were the Beaumont Arms in Bolton, the Dog & Partridge in Morecambe and the Guild Merchant in Preston. None of the three could eclipse our winners on the day though, the Carters Arms in Middleton, who were represented by Graham Smithies, David Frain and Robert Knowles. The trio take back one of our very special Team Event trophies.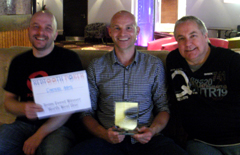 The North West One final table comprised of…
Seat 1: Paul Robertson – Guild, Preston (50,000)
Sear 2: Phil Connerton – George, Morecambe (8,000)
Seat 3: Callum Hepworth – Brocklehurst Arms, Macclesfield (37,000)
Seat 4: Steven Tanner – Railway, Leyland (34,000)
Seat 5: Trudy Gibson – Morecambe FC Globe Arena, Morecambe (41,000)
Seat 6: Rick Makin – George VI, Atherton (120,000)
Seat 7: John Thain – Walkden Legion Club, Walkden (79,000)
Seat 8: Justin Robinson – Brocklehurst, Macclesfield (119,000)
Seat 9: Dan Wiseman – Bowling Green Inn, Chadderton (69,000)
Rick Makin's dominance of the North West One region continued as he made another final table whilst also starting as the chip leader on this occasion. Unfortunately for Rick he couldn't convert this into a win as he came home in 4th place to earn yet another National Final seat. The heads-up encounter came down to Dan Wiseman and Steven Tanner. The final hand saw Dan in bad shape with 9-6 vs T-9 on a Q95 flop. Fortunately for Dan the poker gods were on his side as a 7 turn increased Dan's outs with one card to come. A 6 on the river gave Dan a two pair hand to overtake Steve's one pair and claim the victory on the day. Congratulations Dan Wiseman!
Cash Prize Winners
1. Dan Wiseman – Bowling Green Inn, Chadderton
2. Steven Tanner – Railway, Leyland
3. Phil Connerton – George, Morecambe
4. Rick Makin – George VI, Atherton
5. Paul Robertson – Guild, Preston
6. Justin Robinson – Brocklehurst, Macclesfield
7. Trudy Gibson – Morecambe FC Globe Arena, Morecambe
8. John Thain – Walkden Legion Club, Walkden
National Final Qualifiers
Dan Wiseman
Steven Tanner
Phil Connerton
Rick Makin
Paul Robertson
Team Winners
Carters Arms, Middleton