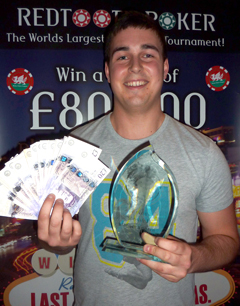 Our very first Wales Regional Final was played at the Grosvenor Casino in Cardiff on Saturday 4th June. With 96 invited this time around, next season's number is expected to be over 200 as we welcome our Wales Poker League venues. On this occasion, four players would be awarded a National Final seat.
86 excited Welsh poker players took their seat for one of our two new Regional Finals. Brian Gilpin from the New Inn in Cardiff was the first player to head home in 86th place. Brian was closely followed by Jos Watkins and Ryan Langley as our Wales Regional Final was well and truly under-way.
A short lunch break was taken and play resumed. Eliminations were swift as the rising blinds engulfed the players' stacks. This soon brought an end to the team event contest which was won by the Village Inn in Cardiff. Calum Farmer, Dean Hendry and Vincent Farmer take home the first Wales Team Event trophy. Calum and Dean would also be present on the first Wales Regional Final final table.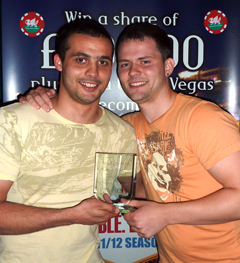 They lined up as…
Seat 1: Dean Hendry – Village Inn, Cardiff (47,000)
Seat 2: Nate Powell – Darran, Risca (25,000)
Seat 3: Luke Pritchard – Three Brewers Hotel, Cardiff (28,000)
Seat 4: Daffyd Thomas – Pick & Shovel, Pontypridd (12,000)
Seat 5: Ashley Upchurch – Central Hotel, Pontypridd (13,000)
Seat 6: William O'Reilly – White Rose, Swansea (52,000)
Seat 7: Claire Brown – Railway Hotel, Penarth (25,000)
Seat 8: Daniel Roach – Railway Hotel, Penarth (18,000)
Seat 9: Szymon Bogdanow – Mackintosh Hotel, Cardiff (153,000)
Seat 10: Calum Farmer – Village Inn, Cardiff (64,000)
The biggest comeback of the weekend was in Wales as short stacked Daffyd Thomas refused to give up his tournament life. Daffyd squeezed through to the heads-up encounter against chip leader Szymon Bogdanow. Prior to the heads-up, Calum Farmer was to bubble the National Final seats by finishing in 5th place for £50. The final hand of the day saw Daffyd hold 7-7 and Szymon J-7. A harmless 649 flop put Daffyd in great shape and with a T turn 2 river, the comeback was complete as Daffyd Thomas claimed the first ever Wales Regional Final title in style!
Cash Prize Winners
1. Daffyd Thomas – Pick & Shovel, Pontypridd
2. Szymon Bogdanow – Mackintosh Hotel, Cardiff
3. Dean Hendry – Village Inn, Cardiff
4. Claire Brown – Railway Hotel, Penarth
5. Calum Farmer – Village Inn, Cardiff
6. Daniel Roach – Railway Hotel, Penarth
7. William O'Reilly – White Rose, Swansea
8. Ashley Upchurch – Central Hotel, Pontypridd
National Final Qualifiers
Daffyd Thomas
Szymon Bogdanow
Dean Hendry
Claire Brown
Team Winners
Village Inn, Cardiff