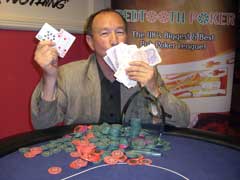 Shuffles hosted another Redtooth Poker Regional Final with six players reaching next year's National Final and eight walking away with a cash prize.
As soon as everyone was signed in and sat down play was under-way. Last seasons winner Charlie Blaxley was absent on this occasion so a new champion was to be crowned. Unfortunately any hopes of victory were quickly dashed for Jon Berry, Mitchell Jennings and Steve Winter as they hit the rail early on as the first break edged closer.
After the break the tables broke left, right and centre amidst our Team Event winner being crowned. Although there were good showings on the day from the Lock Stock & Barrel, the Verwood Sports & Social Club and the Ferryboat Inn, none of those venues could stop our winners, the Star & Garter from Portsmouth, on claiming their first Team Event trophy. They were represented on the day by Paul Goater, Steve Poore and eventual finalist Dave Williamson.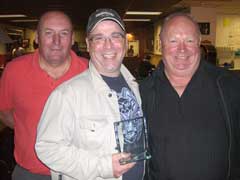 The final table of our South England Regional Final lined up as follows…
Seat 1: Paul Turner – Lock Stock & Barrel, Newbury ( 26,000)
Seat 2: Martin Mabey – Millhouse, Lyndhurst (114,500)
Seat 3: Dave Williamson – Star & Garter, Portsmouth (88,500)
Seat 4: Jason Hall – Salmon Leap, Totton (116,500)
Seat 5: Mick Milne – Famous Old Pines, Bournemouth (86,000)
Seat 6: Calvin Cobby – Locomotive, Little Hampton (86,000)
Seat 7: Edward Green – Verwood Sports & Social Club, Verwood (105,000)
Seat 8: Kevin Mears – Half Moon, Crawley (44,000)
Our short stack Paul Turner got off to a good start as he started his fight back. Kevin Mears and Dave Williamson would both miss out on a National Final seat as they finished in 8th and 7th respectively, with both leaving £20 and £30 better off. This meant that Martin Mabey not only secured back to back final tables but also back to back National Final qualifications, so his 6th place for £40 was a good days work. 3 more eliminations later we were at the heads-up stage. The comeback was still on for Paul Turner as he matched up against Calvin Cobby. The final hand saw Cobby dealt the hooks in the form of J-J whilst Turner had the power of the Doyle Brunson with T-2. Just as Brunson did to claim victory in the WSOP ME (Not quite a Redtooth Poker Regional Final though) in 1976 & 1977, Turner came back from behind to claim victory on a 6KT 2 7 board. Paul 'Doyle Brunson?' Turner becomes our new South England champion!
Cash Prize Winners
1. Paul Turner – Lock Stock & Barrel, Newbury
2. Calvin Cobby – Locomotive, Little Hampton
3. Edward Green – Verwood Sports & Social Club, Verwood
4. Mick Milne – Famous Old Pines, Bournemouth
5. Jason Hall – Salmon Leap, Totton
6. Martin Mabey – Millhouse, Lyndhurst
7. Dave Williamson – Star & Garter, Portsmouth
8. Kevin Mears – Half Moon, Crawley
National Final Qualifiers
Paul Turner
Calvin Cobby
Edward Green
Mick Milne
Jason Hall
Martin Mabey
Team Winners
Star & Garter, Portsmouth