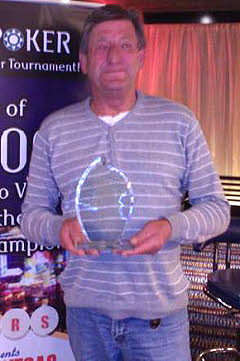 Our North East Regional Final was played at the usual venue, the Circus Casino in Newcastle, where six players would be invited to Nottingham next year to compete in our annual National Final. Eight players would also be leaving with a share of £1,000.
Play was under-way a little before 2pm as the card room fell silent. Alan Mitford from the Grey Horse in Penshaw didn't have things his own way as he made an early exit in 140th. Alan was joined on the rail by Michael Carr and Colin Longstaff from the Harley's Bar in Seaham, ending their hope of winning the Team Event on the day.
After the players had been fed and watered, play resumed. A few of our venues had deep runs in the Team Event, these included the Beehive in Penrith and the Springfield Hotel in Darlington. The outstanding venue on the day, however, was the New Crown in South Shields and they were represented on the day by Stuart Slater, Ian McKay and Karl Riley.
The North East final table lined up as follows…
Seat 1: Malcolm Wilson – Met, Whitby (85,000)
Seat 2: Grahame Meredith – Commercial, Stanley (75,000)
Seat 3: Jamie Dunn – Myton House Farm, Stockton on Tees (70,000)
Seat 4: Karl Riley – New Crown, South Shields (60,000)
Seat 5: Andy Smith – Myton House Farm, Stockton on Tees (60,000)
Seat 6: Steven Thompson – Springfield Hotel, Darlington (110,000)
Seat 7: Peter Britton – DL5, Newton Aycliffe (77,000)
Seat 8: Jim Robinson – Harley's Bar, Seaham (190,000)
The chips were fairly evenly spread apart from our big stack, Jim Robinson, who was hoping to be the Harely's first Regional Final winner. The odds were in Jim's favour as he raced to a heads-up battle against the Met's Malcolm Wilson. The final hand was played in a fairly standard way. Jim's KQ was a great shape against Malcolm's KT. A following board of 66J 2 7 proved no help for Malcolm as Jim Robinson claimed the North East Regional Final title in Newcastle.
Cash Prize Winners
1. Jim Robinson – Harley's Bar, Seaham
2. Malcolm Wilson – Met, Whitby
3. Jamie Dunn – Myton House Farm, Stockton on Tees
4. Andy Smith – Myton House Farm, Stockton on Tees
5. Steven Thompson – Springfield Hotel, Darlington
6. Peter Britton – DL5, Newton Aycliffe
7. Karl Riley – New Crown, South Shields
8. Grahame Meredith – Commercial, Stanley
National Final Qualifiers
Jim Robinson
Malcolm Wilson
Jamie Dunn
Andy Smith
Steven Thompson
Peter Britton
Team Winners
New Crown, South Shields