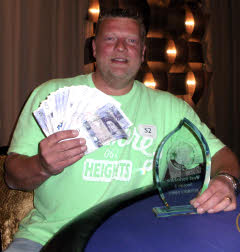 176 players started the season 1 West Yorkshire Regional Final at the Alea Casino in Leeds last Sunday promptly at 2.00pm.
Earlier pub winners had been presented with certificates and this years newly designed glass trophy in the shape of a spade. Clubs, hearts and diamonds are scheduled to follow as the trophy design in future years.
Leanne Varley was unlucky to be the first player eliminated, in contrast to the fortunes of Howard Wilson another player from the same pub, the Black Bull in Rothwell who would go on to win the tournament.
Clear winners of the Team Trophy were John Andrews, Sprout Spinks and Sean Lyons from Suttonfields in Hull. All three players finished in the top 11 places.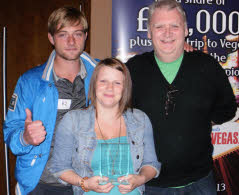 The current National Champion, Dave Cheeseman from the Lord Nelson, Wakefield, put up another strong showing but was finally eliminated in 22nd place. After four hours play we were down to just two tables and the play noticably tightened up with everyone eager to secure a qualification place for the National Final, eventually the blinds accounted for the smaller stacks and we were left with the final ten;-
Baz Fisher – Marine, Hornsea (65,000)
Scott Connell – Salthouse Tavern, Hull (60,000)
Keith Lawrence – Huntington Sports & Social Club, Huntington (70,000)
John Andrews – Suttonfields, Hull (90,000)
James Goldthorpe – Airedale Heifer, Mirfield (80,000)
Dean Walmsley – White Horse, Clitheroe (40,000)
Sean Lyons – Suttonfields, Hull (100,000)
Howard Wilson – Black Bull, Rothwell (250,000)
Andy Waugh – Huntington Sports & Social Club, Huntington (70,000)
Richard Hoyle – Gate, Wakefield (125,000)
The unlucky final table duo to miss out on a share of the prize money and qualification for the National Final were John Andrews (10th) and James Goldthorpe (9th). The other final table eliminations were as follows, Scott Connell (8th), Sean Lyons (6th), Richard Hoyle (5th), Keith Lawrence (4th) and Baz Fisher (3rd).
The final heads up battle was won by Howard Wilson (Ad, Qd) over Andy Waugh (6d, 6s). Andy's pair of 6's were looking good until the river after a flop of 7c, Kd, Ks was followed on the turn by 10c. Howard had plenty of 'outs' but unexpectedly won when the river showed 10h meaning his Ace kicker proved to be the deciding factor.
Cash Prize Winners
1. Howard Wilson – Black Bull, Rothwell
2. Andy Waugh – Huntington Sports & Social Club, Huntington
3. Baz Fisher – Marine, Hornsea
4. Keith Lawrence – Huntington Sports & Social Club, Huntington
5. Richard Hoyle – Gate, Wakefield
6. Sean Lyons – Suttonfields, Hull
7. Dean Walmsley – White Horse, Clitheroe
8. Scott Connell – Salthouse Tavern, Hull
National Final Qualifiers
Howard Wilson
Andy Waugh
Baz Fisher
Keith Lawrence
Richard Hoyle
Sean Lyons
Dean Walmsley
Scott Connell
Team Winners
Suttonfields, Hull