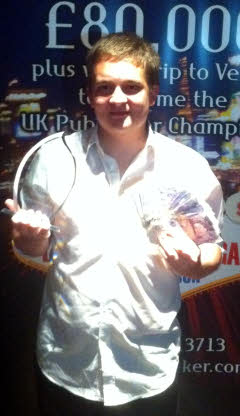 The G Casino in Sheffield hosted their second Redtooth Poker Regional Final after the huge success of the first. Eight players would continue their Las Vegas dream and make it one step closer to Last Table Las Vegas while also leaving with a share of £1,000 on the day.
The tournament got under-way at the usual time with last season's champion, Kevin Ward, looking to repeat Michael Baxter's feat of back to back Regional Final wins. Unfortunately the dream was over shortly after it began as Kevin exited in 163rd place. His team mates performed slightly better however as they both finished in the top 70.
Last season's Team Event winners and the current UK's Best Pub Poker Night, the Brownlow Arms in Newark, were back to defend their crown and add yet another trophy to their collection. Represented by three different players this time, they once again performed well. The Queen Hotel were their closest challenges with the Yellow Lion also having 3 top 100 finishers. But nobody could stop A.M. Jones, Karl Lambert and finalist Sam Johnson from adding to the Brownlow Arms trophy collection as they became only the second pub after the Plough Hotel in Preston to defend their Team Event title. They'd better get that trophy cabinet on order!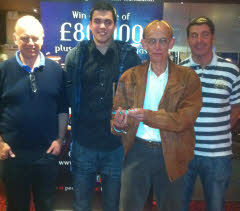 Our South Yorkshire final table was set once Adam Taylor and Daniel Walker both exited during hand for hand play. The remaining 7 lined up as follows…
Seat 1: Lee Cleary – Brooklands Club Ltd, Rotherham (263,000)
Seat 2: Dean Dunkerley – Player's Lounge, Sheffield (116,000)
Seat 3: Luke Bentley – Highway Man, Doncaster (112,000)
Seat 4: Emma Abel – Gate Inn, Rotherham (40,000)
Seat 5: P. Bullimore – Three Magpies, Rotherham (61,000)
Seat 6: John Barker – Haynook, Rotherham (240,000)
Seat 7: Sam Johnson – Brownlow Arms, Newark (51,000)
Our short stack Emma Abel was the first player to be eliminated in 7th place. Sam Johnson made a good fist of his short stack as he converted it into 4th place for £60. John Barker took home £100 for 3rd place which left Luke Bentley and Lee Cleary fighting for the title of South Yorkshire champion. Cleary, our big stack as the final table began, was looking to do what others have done these past two weekends and convert it into a win. The final hand saw Cleary with the worse hand pre-flop with J-T vs. Bentley's A-7. A helpful flop of 839 gave Cleary an open ender with his two live cards. But unfortunately the turn and river bricked off as Luke Bentley became the new South Yorkshire Regional Final champion.
Cash Prize Winners
1. Luke Bentley – Highway Man, Doncaster
2. Lee Cleary – Brooklands Club Ltd, Rotherham
3. John Barker – Haynook, Rotherham
4. Sam Johnson – Brownlow Arms, Newark
5. P. Bullimore – Three Magpies, Rotherham
6. Dean Dunkerley – Player's Lounge, Sheffield
7. Emma Abel – Gate Inn, Rotherham
8. Adam Taylor – Fairways, Sheffield
National Final Qualifiers
Luke Bentley
Lee Cleary
John Barker
Sam Johnson
P. Bullimore
Dean Dunkerley
Emma Abel
Adam Taylor
Team Winners
Brownlow Arms, Newark