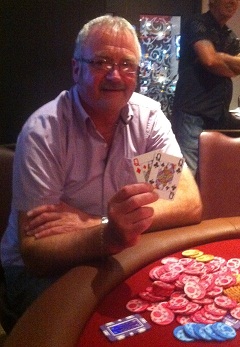 The Grosvenor in Cardiff hosted our second Wales regional final which was run slightly differently to last time. One group of 67 would sit down for a morning session with the other 97 sitting down for an afternoon session. After each group had played for 4 hours, all remaining players would come back for an evening session with their finishing chip stack to find a winner.
There would be 12 national final qualifiers with the top eight receiving a share of £1000. This was also the regional final in which we welcomed the players from Wales Poker League.
As last season's Team Event winners were absent on the day, a new venue would be crowned the winner. A whole host of venues were all in with a shout but at the top of the pile were Lynsey Taylor, Daniel Jacques and Rado Hanzel from the Six Bells in Gwent. Daniel later hit the final table with a more than healthy chip stack.
62 players came back for the evening session and they were led by Tan Tai Nguyen from the Albany in Cardiff. A few hours later we were descending onto a final table. This was only after Nathan Griffiths from the Fagins Cafe Bar bubbled the national final seats with a 13th place finish. Tan Tai Nguyen and Joe Williams finished in 12th and 11th place respectively which brought us to the final 10 players who lined up as follows…
Seat 1: Nathan Hutchinson – Alexandra Inn, Newport (93,000)
Seat 2: Bernard Wright – Redz Parc Hotel, Bargoed (36,000)
Seat 3: Robert Gibbons – Nightingale, Newport (167,000)
Seat 4: Darren Sanderson – Cwrt Rawlin, Caerphilly (19,000)
Seat 5: Christopher King – Kiss Shot Pool Club, Pontypridd (64,000)
Seat 6: Ian Preece – Corn Exchange, Gilwern (57,000)
Seat 7: Laurence Morris – Dunraven Conservative Club, Rhondda (17,000)
Seat 8: Stephen Manning – Mount Pleasant, Cwmbran (81,000)
Seat 9: Martyn Jenkins – Harlequin, Gwent (155,000)
Seat 10: Daniel Jacques – Six Bells, Gwent (146,000)
It proved to be an unusual final table as two of the short stacks made the heads-up stage while Daniel Jacques, Nathan Hutchinson and Christopher King all exited early on after losing their big stacks. After the mayhem had settled, Bernard Wright and Darren Sanderson were the last two remaining fighting for the Wales regional title. The final hand of a very long day was a corker as Bernard was dealt Q-Q and Darren A-T. A flop of AA3 put Darren a long way in front with only two cards to come. A 2 turn changed nothing for Bernard until one of his two remaining Q's hit on the river to make a full house. Congratulations Bernard Wright who collects £500 and a crystal glass trophy.
Cash Prize Winners
1. Bernard Wright – Redz Parc Hotel, Bargoed
2. Darren Sanderson – Cwrt Rawlin, Caerphilly
3. Stephen Manning – Mount Pleasant, Cwmbran
4. Robert Gibbons – Nightingale, Newport
5. Martyn Jenkins – Harlequin, Gwent
6. Ian Preece – Corn Exchange, Gilwern
7. Christopher King – Kiss Shot Pool Club, Pontypridd
8. Laurence Morris – Dunraven Conservative Club, Rhondda
National Final Qualifiers
Bernard Wright
Darren Sanderson
Stephen Manning
Robert Gibbons
Martyn Jenkins
Ian Preece
Christopher King
Laurence Morris
Daniel Jacques
Nathan Hutchinson
Joe Williams
Tan Tai Nguyen
Team Winners
Six Bells, Gwent