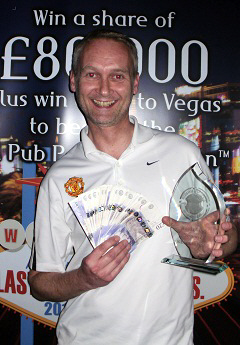 Over 100 poker players from Manchester and the surrounding areas entered Manchester 235 Casino with the hope of taking that next step towards Las Vegas. The reality was that only five would progress to next year's national final.
Last season's champion Dan Wiseman was absent on this occasion so a new champion would be crowned. Season 4.4's champion and current Lord Nelson champion Alex Peel was present again and looking for a second regional title. It was another good showing for Alex but unfortunately he just fell short of another final table appearance in 20th place. On the other end of the spectrum, Aaron Clapperton from the Dalton Arms was the first player to be eliminated on the day.
The Team Event had first time winners in the form of the Red Lion Hotel in Bolton. They were represented on the day by Darren Sutcliffe, Mark Watts and Lee Saunders who all had a top 25 finish.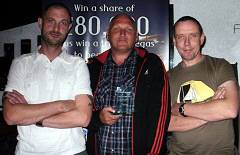 Our final table lined up as follows…
Seat 1: Dave Gill – Commercial, Prestwich (18,000)
Seat 2: Tom Chetwynd – Old Rectory, Stockport (31,000)
Seat 3: Mark Woodacre – Sherwood, Preston (69,000)
Seat 4: Alan Healey – Dalton Arms, Chadderton (63,000)
Seat 5: Howard Dawber – Old Rectory, Stockport (165,000)
Seat 6: James Cox – Vernon Arms, Stockport (33,000)
Seat 7: Rod Williams – Royal Hotel, Atherton (108,000)
Seat 8: Ed Sowerby – Dog & Partridge, Morecambe (35,000)
Big chip leader Howard Dawber showed no signs of letting his stack go as he coasted through to the latter stages of the tournament. Short stack Dave Gill hit the rail first and he was followed by Alan Healey and Ed Sowerby who unluckily bubbled the national final seats. Our big stack Howard Dawber made the final two and he was joined by team mate Tom Chetwynd also from the Old Rectory in Stockport. The final hand saw Howard's K-7 match up against Tom's Q-T and a following board of 654-A-4 gave Howard Dawber victory on the day.
Cash Prize Winners
1. Howard Dawber – Old Rectory, Stockport
2. Tom Chetwynd – Old Rectory, Stockport
3. James Cox – Vernon Arms, Stockport
4. Rod Williams – Royal Hotel, Atherton
5. Mark Woodacre – Sherwood, Preston
6. Ed Sowerby – Dog & Partridge, Morecambe
7. Alan Healey – Dalton Arms, Chadderton
8. Dave Gill – Commercial, Prestwich
National Final Qualifiers
Howard Dawber
Tom Chetwynd
James Cox
Rod Williams
Mark Woodacre
Team Winners
Red Lion Hotel, Bolton