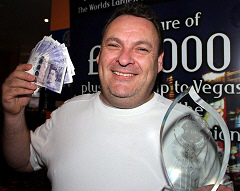 Only the second ever Redtooth Poker South West regional final was played at the Grosvenor Casino in Bristol. An impressive turnout were all fighting for a share of £1,000.
Some of the first players to be eliminated included two of the Old Manor Inn lads, Daniel Turner and Phil Brereton. Their third representative didn't last much longer as Chris Fella left us in 88th position. Last seasons finalist Daniel Mitchell had another good showing as the Village Inn, Swindon champion exited in 35th place. This was clearly too much for his team mates to take as they also went out within 5 minutes of each other.
The Team Event had a runaway winner this time in the form of the Beer Social Club in Beer with James Melville and Mike Westlake both final tabling. League champion Nick Carney was their third representative who did an outstanding job on the rail.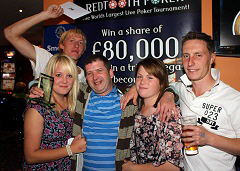 In seat order, the final table lined up as follows…
Seat 1: Andrew Lewis – Melksham Labour Club, Melksham (77,000)
Seat 2: Malcolm Snashall – Brookhouse Farm, Swindon (74,000)
Seat 3: Shane Goldsmith – County Arms, Truro (26,000)
Seat 4: Alan Robbins – Chaddlewood Inn, Plymouth (23,000)
Seat 5: Daisy French – Rashleigh Arms, St Austell (114,000)
Seat 6: Barney Barnwell – Grapes, Bath (88,000)
Seat 7: Mike Westlake – Beer Social Club, Beer (96,000)
Seat 8: Phil Simmons – Quayside, Falmouth (31,000)
Seat 9: James Melville – Beer Social Club, Beer (68,000)
Seat 10: Lee Owens – Ebdon Arms, W-S-M (20,000)
As expected, a lot of our short stacks were the first players eliminated. Although this group did include our third big stack, Barney Barnwell, who had a final table to forget. Once James Melville had bubbled the final table seats, the remaining players could loosen up. With Andrew Lewis finishing 5th, Phil Simmons in 4th and Daisy French in 3rd, we had our heads-up match between Malcolm Snashall and Mike Westlake. Mike was looking to make it a Beer Scoial Club double until his 3-6 ran into A-9 and with a board of 5AT-2-T Malcolm Snashall was the new South West champion.
Cash Prize Winners
1. Malcolm Snashall – Brookhouse Farm, Swindon
2. Mike Westlake – Beer Social Club, Beer
3. Daisy French – Rashleigh Arms, St Austell
4. Phil Simmons – Quayside, Falmouth
5. Andrew Lewis – Melksham Labour Club, Melksham
6. James Melville – Beer Social Club, Beer
7. Shane Goldsmith – County Arms, Truro
8. Barney Barnwell – Grapes, Bath
National Final Qualifiers
Malcolm Snashall
Mike Westlake
Daisy French
Phil Simmons
Andrew Lewis
Team Winners
Beer Social Club, Beer