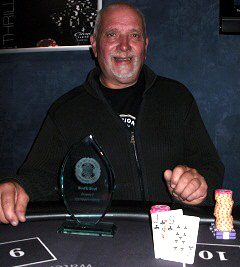 Our newest venue, the Circus Casino in Liverpool hosted a Redtooth regional final for the first time. Players from Liverpool, Blackpool and the surrounding areas sat down for the second of our North West finals. The top six would make the national final with an extra two places being awarded a cash prize.
As 'shuffle up n deal' was announced all 12 tables fell silent. All eyes were on our only ever back to back champion, Michael Baxter, who was now looking for the hat-trick of regional final wins after victories in season 4.4 and season 5.1. However, the dream came to an end fairly early as Michael hit the rail in 90th place while also eliminating the Halfway House from the afternoons Team Event.
The Seven Woods were looking to win back to back Team Event titles in Liverpool, and with Steve Ritchie hitting the final table they made a good fist of it. However, the outstanding venue on the day was the Saddle Inn in Blackpool with three top 50 finishes. Congratulations to league champion Russell Stephenson, Rhea Bird and Frank Rothwell. The Swan Hotel in the Wirral also had a good day with Marjory Ritson and John Littlewood both making the final table.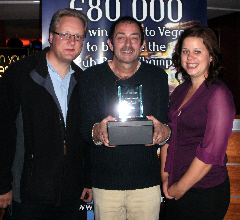 Our North West Two final table came together as follows…
Seat 1: Marjory Ritson – Swan Hotel, Wirral (32,000)
Seat 2: John Littlewood – Swan hotel, Wirral (41,000)
Seat 3: Carl Sullivan – Mulberry Tree, Warrington (75,000)
Seat 4: Colin Clayton – Red Lion, Warrington (39,000)
Seat 5: Phil Benton – Alexanders, Chester (65,000)
Seat 6: Steve Ritchie – Seven Woods, Warrington (35,000)
Seat 7: Steve Boxall – Wheatsheaf, Dunham on the Hill (32,000)
Seat 8: Paul Evans – Bear & Staff, Liverpool (53,000)
Seat 9: Daniel Karythis – Halfway House, Birkenhead (80,000)
Seat 10: Charlie Mitchell – Bears Paw, Warrington (170,000)
Our big chip leader Charlie Mitchell didn't look like relinquishing his chip lead any time soon as he stayed in control for some time. Steve Boxall went on to bubble the national final seats, although due to his back to back final tables a national final seat was already in the bag. Less than an hour later we were looking at a heads-up contest between Carl Sullivan and Charlie Mitchell. Charlie got his chips in great shape as his J-9 dominated Carl's J-4. A flop of 99K would mean Carl was drawing dead to a chop and with a 2 turn and A river Charlie Mitchell became the new Redtooth Poker North West Two champion.
Cash Prize Winners
1. Charlie Mitchell – Bears Paw, Warrington
2. Carl Sullivan – Mulberry Tree, Warrington
3. Marjory Ritson – Swan Hotel, Wirral
4. Phil Benton – Alexanders, Chester
5. Daniel Karythis – Halfway House, Birkenhead
6. Colin Clayton – Red Lion, Warrington
7. Steve Boxall – Wheatsheaf, Dunham on the Hill
8. John Littlewood – Swan hotel, Wirral
National Final Qualifiers
Charlie Mitchell
Carl Sullivan
Marjory Ritson
Phil Benton
Daniel Karythis
Colin Clayton
Team Winners
Saddle Inn, Blackpool