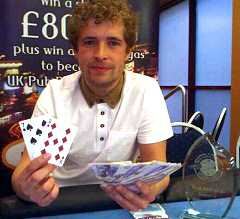 Star City Played host to our second regional final in the West Midlands. Seven players would be invited to the national final while eight would win a share of £1,000.
A good turn-out on the day wouldn't prevent the tournament from coming to a speedy conclusion. The Acorn in Nuneaton and the Man on the Moon in Birmingham didn't have the best of days as none of their representatives could break into the top 120. At the opposite end, a great day was had by the Hatherley in Cheltenham as they cruised to a Team Event triumph with Tim Myerscough, Bruce Hamilton-Webb and Peter Kemp all achieving a top 50 place. Peter Kemp then went on to make the final 10 as chip leader as he was looking to complete a Hatherley clean sweep.
The West Midlands Two final table:
Seat 1: Emily Bell – Mount Pleasant, Coventry (25,000)
Seat 2: Mark Quinn – Sutton Park Hotel, Birmingham (95,000)
Seat 3: Adrian Bambrough – Wrottersley Arms, Wolverton (30,000)
Seat 4: Sam Round – Shannon Inn, Kings Norton (110,000)
Seat 5: Helen Jones – Hilly House, Dudley (55,000)
Seat 6: Lee James – Farmer Johns, Sutton Coldfield (55,000)
Seat 7: David Hook – Royal Oak, Gloucester (60,000)
Seat 8: Paul Swash – Master Potter, Cheadle (65,000)
Seat 9: Peter Kemp – Hatherley, Cheltenham (135,000)
Seat 10: Matt Green – Yardley Arms, Birmingham (80,000)
The story of the final table belonged to Adrian Bamborough from the Wrottersley Arms in Wolverton. Adrian started as a short stack but still managed to maneuver his way to a heads-up battle against Sam Round. Big stack Peter Kemp was on course to take the title until he came unstuck in 3rd place. With the pace of the final table frantic, the heads-up match didn't last long with Sam Round from the Shannon Inn in Kings Norton becoming our second West Midlands champion in a fortnight.
Cash Prize Winners
1. Sam Round – Shannon Inn, Kings Norton
2. Adrian Bambrough – Wrottersley Arms, Wolverton
3. Pete Kemp – Hatherley, Cheltenham
4. Mark Quinn – Sutton Park Hotel, Birmingham
5. Paul Swash – Master Potter, Cheadle
6. Emily Bell – Mount Pleasant, Coventry
7. Helen Jones – Hilly House, Dudley
8. Matt Green – Yardley Arms, Birmingham
National Final Qualifiers
Sam Round
Adrian Bambrough
Pete Kemp
Mark Quinn
Paul Swash
Emily Bell
Helen Jones
Team Winners
Hatherley, Cheltenham