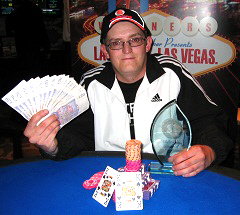 The fabulous Alea Casino in Nottingham welcomed Redtooth for the second regional final of the Redtooth year. Eight players would leave with a cash prize and a national final seat.
Play was delayed slightly due to the Robin Hood marathon so a 2:20 start ensued. Within two minutes we had lost our first player, Gus Lohan from the Talbot in Mansfield who hit the rail to the customary East Midlands roar and round of applause. Clinton Sherratt, Peter Watson and Oadby Owl champion Mark Williams all joined Gus before the first break.
The Team Event was a close run contest between the Boston Central Racing Club and the Lamb & Flag in Lincoln. The winner was declared once Carl Upsall from the Boston venue was eliminated in 63rd place. Congratulations to league champ Jake Garside, David Cutten and Oliver Firth from the Lamb & Flag in Lincoln.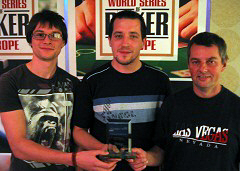 The East Midlands final table lined up as…
Seat 1: Harry Sohal – Oadby Owl, Leicester (255,000)
Seat 2: Danny O'Neill – Corn Mill, Nottingham (90,000)
Seat 3: Adam Sentance – Moot House, Bingham (15,000)
Seat 4: Patrick Allen – Railway, Nottingham (20,000)
Seat 5: Andy Johnson – George & Dragon, Broughton Astley (115,000)
Seat 6: Mark Gwynne – Fox & Crown, Sutton in Ashfield (155,000)
Seat 7: Sean Boylan – Sun Inn, Eastwood (170,000)
Seat 8: Jake Garside – Lamb & Flag, Lincoln (90,000)
With all eight players making the national final the pressure was off right from the start. Short stack Adam Sentance soon exited in 8th place and he was quickly followed by Patrick Allen and Andy Johnson. Danny O'Neill and Mark Gwynne were 5th and 4th respectively and when Jake Garside hit the rail in 3rd, we had our heads-up match between the two big stacks Harry Sohal and Sean Boylan. It was a cagey affair with more checking than betting but eventually the decisive hand was upon us. Sean 3bet his K-K pre-flop and was met by a call from Harry's K-J, the players saw a flop of 9T2 and when Sean's all in was called by Harry's two overs and gutshot Sean was in great shape. A 6 turn and 2 river was no help to Harry as a delighted Sean Boylan took down the East Midlands regional final.
Cash Prize Winners
1. Sean Boylan – Sun Inn, Eastwood
2. Harry Sohal – Oadby Owl, Leicester
3. Jake Garside – Lamb & Flag, Lincoln
4. Mark Gwynne – Fox & Crown, Sutton in Ashfield
5. Danny O'Neill – Corn Mill, Nottingham
6. Andy Johnson – George & Dragon, Broughton Astley
7. Patrick Allen – Railway, Nottingham
8. Adam Sentance – Moot House, Bingham
National Final Qualifiers
Sean Boylan
Harry Sohal
Jake Garside
Mark Gwynne
Danny O'Neill
Andy Johnson
Patrick Allen
Adam Sentance
Team Winners
Lamb & Flag, Lincoln