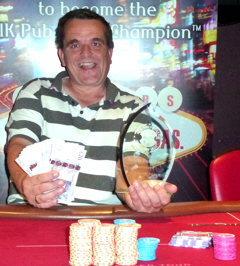 Our South Yorkshire regional final was played at the G Casino in Sheffield for the third time. 180 players were vying for eight national final seats and eight cash prizes.
As 'shuffle up n deal' was announced the chips and cards hit the air. Gordon Marriott's chips soon deserted him as he made a swift exit from the card room. Gordon was soon followed by John Leslie and Thomas Lynch who also had days to forget.
After the break we had the Team Event to settle. The Grove Mill Bar in Retford went close as they looked to dethrone back to back winners, the Brownlow Arms. The Cadeby Arms also had a good day as their three representatives all made the top 50 but ultimately fell short. So just like the last two seasons, the Brownlow Arms' dominance of the South Yorkshire region continued as they became the first venue to take home the trophy three times in a row. This time they were represented by league champion Pete Nussey, Phillip O'Sullivan and Dave Hallett. Congratulations lads!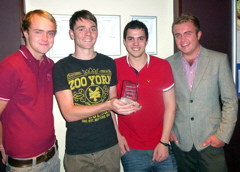 South Yorkshire region final table:
Seat 1: Jon Nicholls – Stag, Woodhouse (160,000)
Seat 2: Stuart Allen – Jester's, Mablethorpe (117,000)
Seat 3: Basil Keelan – Three Magpies, Brinsworth (50,000)
Seat 4: Matt Dawson – Cue Ball, Sheffield (126,000)
Seat 5: Gareth Deighton – Friary, Grimsby (61,000)
Seat 6: Samuel Fletcher – Brentwood, Rotherham (44,000)
Seat 7: Paul Baker – Stag, Woodhouse (170,000)
Seat 8: Cathy Hewitt – Rbar, Gainsborough (37,000)
Seat 9: Peep Priestley – Cremorne, Sheffield (115,000)
Seat 10: Ken Melton – Station Hotel, Doncaster (10,000)
The story of the final table went to Ken Melton of the Station Hotel in Doncaster. Ken started the final table with only 10,000 in chips but still managed to make the heads-up battle against chip leader Paul Baker, who had a seemingly easier run. As soon as Peep Priestley exited in third place the heads up match commenced. The final hand was a great way to end the contest as Paul's 10-8 went up against Ken's Q-8. A flop of 956 made it interesting and after an ace hit the turn the river delivered a 7 to give both players a straight with Paul's 10 making a higher straight and in turn making him the South Yorkshire champion.
Cash Prize Winners
1. Paul Baker – Stag, Woodhouse
2. Ken Melton – Station Hotel, Doncaster
3. Peep Priestley – Cremorne, Sheffield
4. Jon Nicholls – Stag, Woodhouse
5. Samuel Fletcher – Brentwood, Rotherham
6. Stuart Allen – Jester's, Mablethorpe
7. Matt Dawson – Cue Ball, Sheffield
8. Gareth Deighton – Friary, Grimsby
National Final Qualifiers
Paul Baker
Ken Melton
Peep Priestley
Jon Nicholls
Samuel Fletcher
Stuart Allen
Matt Dawson
Gareth Deighton
Team Winners
Brownlow Arms, Newark