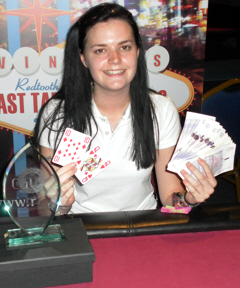 The Loose Cannon Club in London welcomed our West Londoners for another Redtooth Poker regional final. 153 runners would battle for eight national final seats and eight cash prizes.
The outstanding Redtooth venue on the day was the London Apprentice as they took down the Team Event for the first time. Their representatives were Max Majed, Jaimee Dickinson and Laurie Mathura. Jaimee & Max would later reach the final table hoping for a London Apprentice double. The other outstanding venue was the Noble Vine in Walton on Thames who also had two finalists in the shape of Jamie Johnson & Kamran Tirmizey.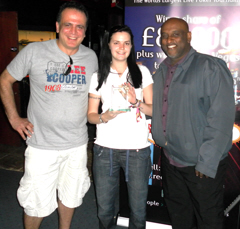 West London region final table:
Seat 1: Jack Courtenay – Royal Oak, Abbots Langley (122,000)
Seat 2: Jamie Johnson – Noble Vine, Walton on Thames (83,000)
Seat 3: Firdous (Fred) Raja – Duke of Cambridge, London (94,000)
Seat 4: Jaimee Dickinson – London Apprentice, London (35,000)
Seat 5: Will Patey – St Margarets, Twickenham (28,000)
Seat 6: Steve Smith – Eight Bells, Cumnor (99,000)
Seat 7: Bob Page – Ye Olde Red Lion, Sutton (92,000)
Seat 8: Kamran Tirmizey – Noble Vine, Walton on Thames (149,000)
Seat 9: Lee Pearce – Ship Inn, Wokingham (34,000)
Seat 10: Max Majed – London Apprentice, London (63,000)
Our big stack, Kamran Tirmizey, couldn't keep a hold of his chips as he hit the rail in 6th place earning himself a national final seat and £40. Our three short stacks remarkably were the last three standing and when Will Patey left us in 3rd place we had a heads-up match between Jaimee Dickinson and Lee Pearce. The final hand saw Jaimee's Q-10 marginally ahead of Lee's J-7 and after a nothing flop of 24K Lee spiked his J on the turn. However, the poker gods were smiling on Jaimee as a lady on the river made Jaimee Dickinson our new West London champion and a clean sweep for the London Apprentice!
Cash Prize Winners
1. Jaimee Dickinson – London Apprentice, London
2. Lee Pearce – Ship Inn, Wokingham
3. Will Patey – St Margarets, Twickenham
4. Firdous (Fred) Raja – Duke of Cambridge, London
5. Bob Page – Ye Olde Red Lion, Sutton
6. Kamran Tirmizey – Noble Vine, Walton on Thames
7. Jamie Johnson – Noble Vine, Walton on Thames
8. Max Majed – London Apprentice, London
National Final Qualifiers
Jaimee Dickinson
Lee Pearce
Will Patey
Firdous (Fred) Raja
Bob Page
Kamran Tirmizey
Jamie Johnson
Max Majed
Team Winners
London Apprentice, London