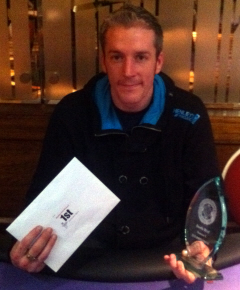 Sunday 4th December 2011
Time: 2:00pm
Venue: Manchester 235 Casino
Where: Manchester
No. of Players: 108
Regional Final Winner: Andrew McMillan
Old Leyland Gates, Leyland
Team Event Winner: Blue Bell, Manchester
Steve Murray
Danielle Maxfield
Gavin Pennington
The Carnage…
Manchester 235 put on a show and a half for another North West One regional final. Five more players from the Lancashire area would be one step closer to becoming the new UK Pub Poker Champion. Last season's winner, Howard Dawber, was back to defend his title but exited in 85th position respectively. Last season's Team Event winners were soon eliminated with their play-off winner Will Davenport being the second player eliminated on the day. The outstanding venue came in the shape of the Blue Bell in Manchester who had two finalists on the day and another top 20 finish. Our congratulations go to league champ Steve Murray, Danielle Maxfield and Gavin Pennington.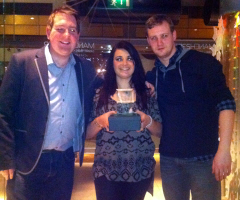 The Final Table…
Seat 1: Dave Cree – Red Lion Hotel, Manchester (32,000)
Seat 2: Andrew McMillan – Old Leyland Gates, Leyland (76,000)
Seat 3: Aaron Clapperton – Dalton Arms, Chadderton (42,000)
Seat 4: Tom Hill – Fools Nook, Macclesfield (62,000)
Seat 5: Neil Cox – Globe, Nantwich (59,000)
Seat 6: Ian Vayro – Carters Arms, Middleton (86,000)
Seat 7: Anthony Gilderdale – Highfield, Liverpool (59,000)
Seat 8: Steve Murray – Blue Bell Pub, Manchester
Seat 9: Gavin Pennington – Blue Bell Pub, Manchester (40,000)
Seat 10: Anthony Reel – Carousel, Stockport (20,000)
As the final table got under way, it was, as expected, the two big stacks who were looking the most dangerous. With only five National Final seats available, there were still going to be five slightly disappointed players. First out was one of our Team Event heroes Steve Murray. Steve was swiftly followed by Anthony Reel, Neil Cox, Anthony Gilderdale, and the second Blue Bell finalist Gavin Pennington. With all remaining players through to Nottingham the atmosphere was a lot more relaxed. We were soon down to the heads-up stage between our two earlier big stacks, Andrew McMillan and Ian Vayro. The final hand saw Ian put in his remaining stack with 9-7, only for Andrew to hold A-3. Andrew smashed a flop of 6-A-3 for two pair and while Ian had some hope with a 6 turn, all hope was soon lost when a Q hit the river to make Andrew McMillan our new North West One champion.
The Winners…
Cash Prize Winners
1. Andrew McMillan – Old Leyland Gates, Leyland
2. Ian Vayro – Carters Arms, Middleton
3. Dave Cree – Red Lion Hotel, Manchester
4. Tom Hill – Fools Nook, Macclesfield
5. Aaron Clapperton – Dalton Arms, Chadderton
6. Gavin Pennington – Blue Bell Pub, Manchester
7. Anthony Gilderdale – Highfield, Liverpool
8. Neil Cox – Globe, Nantwich
National Final Qualifiers
Andrew McMillan
Ian Vayro
Dave Cree
Tom Hill
Aaron Clapperton