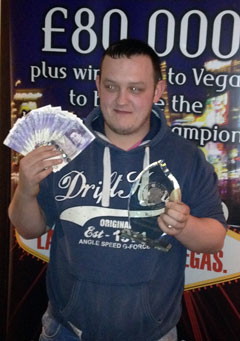 Saturday 3rd December 2011
Time: 2:00pm
Venue: Grosvenor Casino
Where: Cardiff
Prize-pool: £1,000
Regional Final Winner: Gary Musgrove
Dunraven Conservative Club, Rhondda Cynon-Taff
Team Event Winner: Mackintosh, Cardiff
John Hindle
Matt Lemin
Claire Abraham
The Carnage…
Due to the increasing number of Welsh venues our Wales regional final was split into two for the first time ever. Saturday was the turn of Wales One to grace the Grosvenor Casino in Cardiff. Last season's champion, Bernard Wright, was not being let loose until the following day so only our third ever Wales champion was going to be found during the early evening. Some outstanding venues on the day were the Tynewydd Inn in Barry and the Cayo Arms in Cardiff. However, neither could beat the Mackintosh in Cardiff whose heroic trio were John Hindle, Matt Lemin and Claire Abraham.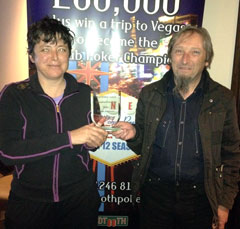 The Final Table…
Seat 1: Daniel Barclay – Oyster Catcher, Penarth (50,000)
Seat 2: Lyndon Horton – Birchgrove, Cardiff (14,000)
Seat 3: Lee Phillips – Railway, Penarth (40,000)
Seat 4: Ashley Bristow – Tylorstown Ex-Servicemens Club (46,000)
Seat 5: Kevin Fitzgerald – Albany, Cardiff (31,000)
Seat 6: John Gilkes – Cayo Arms, Cardiff (42,000)
Seat 7: John Hindle – Mackintosh, Cardiff (35,000)
Seat 8: Gary Musgrove – Dunraven Conservative Club, Rhondda Cynon-Taff (81,000)
Seat 9: Genine Taylor – O Briens, Barry (64,000)
Seat 10: Amanda Clarke – Tafarn Y Felin, Llanelli (18,000)
Gary Musgrove went into the final table as the big stack which made him favourite for the title. Gary's closest rivals Genine Taylor and Daniel Barclay both made a good run and it was indeed those three who went the furthest and have also booked a place into next year's national final, along with two others. Once Genine had hit the rail in 3rd place it left us with a heads-up encounter between Daniel and Gary. The result of the final hand was not in doubt as Gary smashed a flop of A-K-10 with A-K against Daniel's optimistic 9-2. The turn and river only strengthened Gary's hand as two more 10's resulted in a full house for Gary as he became a Wales poker champion.
The Winners…
Cash Prize Winners
1. Gary Musgrove – Dunraven Conservative Club, Rhondda Cynon-Taff
2. Daniel Barclay – Oyster Catcher, Penarth
3. Genine Taylor – O Briens, Barry
4. Lee Phillips – Railway, Penarth
5. Lyndon Horton – Birchgrove, Cardiff
6. Amanda Clarke – Tafarn Y Felin, Llanelli
7. John Hindle – Mackintosh, Cardiff
8. John Gilkes – Cayo Arms, Cardiff
National Final Qualifiers
Gary Musgrove
Daniel Barclay
Genine Taylor
Lee Phillips
Lyndon Horton